Main content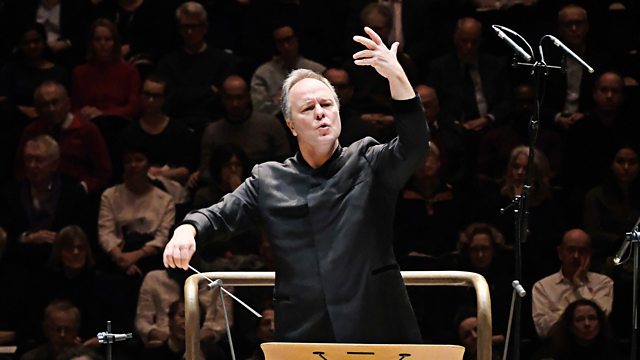 BBC Singers and BBC Symphony Orchestra
The BBC Singers with choral pieces by Bo Holten, Cecilia McDowall, Dobrinka Tabakova and Bernard Hughes. The BBC SO perform music by Roustom, Vasilenko and Beethoven's Symphony No 7.
Presented by Penny Gore.
This concert presents a selection of choral works by the British composer Bernard Hughes alongside a selection of favourite composers he has chosen to complement his music. Hughes's music ranges from the wordless ecstasy of Revelation Window to the exciting world premiere of new commission A Ternary of Littles. A sequence of sacred pieces in the second half includes works by Dobrinka Tabakova and Eleanor Alberga, while the secular first half includes a Burns setting by Cecilia McDowall and the exquisite Pavane Fantasia by long-time BBC Singers collaborator Bo Holten.
It's followed by American conductor Fawzi Haimor and BBC Radio 3 New Generation Artist, the German trumpeter Simon Höfele both making their BBC Symphony Orchestra debuts. There's Syrian-American composer's Kareem Roustom's recent propulsive, colourful piece 'Ramal' and a work by Russian/Soviet composer Sergei Vasilenko - his Concerto Poem for Trumpet & Orchestra, written in the late 1940s, which demonstrates the trumpet's lyrical voice.
2.00pm
Bernard Hughes: Revelation Window
Bo Holten: Pavan I (Pavane-Fantasia)
Bernard Hughes: I Sing of Love
Cecilia McDowall: A red, red rose
Bernard Hughes: The winter it is past
Bernard Hughes: Two Songs of Spring
Bernard Hughes: A Ternary of Littles - WORLD PREMIERE
Dobrinka Tabakova: Alma Redemptoris Mater
Bernard Hughes: Psalm 56
Bernard Hughes: Jubilate Domino
Eleanor Alberga: My Heart Danceth
Bernard Hughes: Precious Things
BBC Singers
Eamonn Dougan, conductor
3.10pm
Kareem Roustom: Ramal
Sergei Vasilenko: Concerto Poem for Trumpet and Orchestra, Op.113*
Simon Höfele, trumpet* (Radio 3 New Generation Artist)
BBC Symphony Orchestra
Fawzi Haimor, conductor
3.45pm
Beethoven: Symphony No. 7 in A major, Op. 92
BBC Symphony Orchestra
Sakari Oramo, conductor