Main content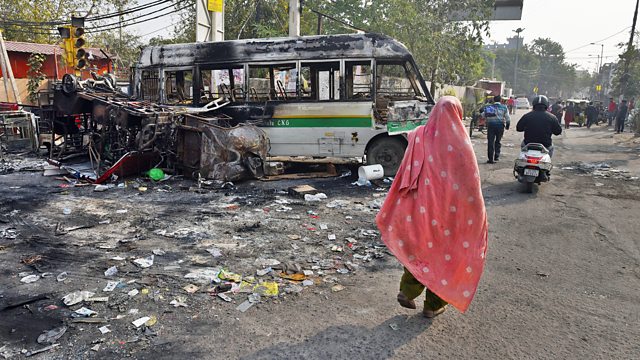 Mob Rule In Delhi
India's new citizenship law which some see as anti Muslim has been the trigger for the deadliest violence in Delhi for decades. Also stories from Sudan, Egypt, Austria and Holland.
Deadly violence erupted this week in north-east Delhi between supporters and opponents of India's new and controversial citizenship law. The legislation grants amnesty to illegal immigrants but only non-Muslim ones. The worst of the violence has abated but Yogita Limaye says many are stunned by the ferocity of the attacks.
The former President of Egypt, Hosni Mubarak has been buried in Cairo with full military honours. The 91-year-old, who ruled the Arab world's most populous state for three decades, was forced from office by the Arab Spring in 2011. Jeremy Bowen looks at the legacy of the man street protestors branded a modern day Pharaoh.
Last year, Sudan's former president Omar al-Bashir was also ousted by popular protests. He may face trial for war crime and crimes against humanity at the International Criminal Court in the Hague after the killing and torture of hundreds of thousands of people in Darfur. But civilians in Sudan's province of Blue Nile also suffered misery and terror. The conflict has largely cooled since Bashir was toppled, but now famine threatens says Peter Oborne.
Gender dysphoria, the anguish caused by a mismatch between the sex people were assigned at birth and the one they feel themselves to be. Transition to the desired gender can ease distress, but it may be a long and painful process – socially, medically, surgically… And sometimes it doesn't go to plan. In the Netherlands, Linda Pressly met someone who's ridden the gender roller-coaster.
Choosing trains over planes is not just about guilt over our carbon footprint. It's also just possible that we're sick of being treated like cattle by low cost airlines. Bethany Bell detects a revival of the venerable tradition of the railway dining car.