Main content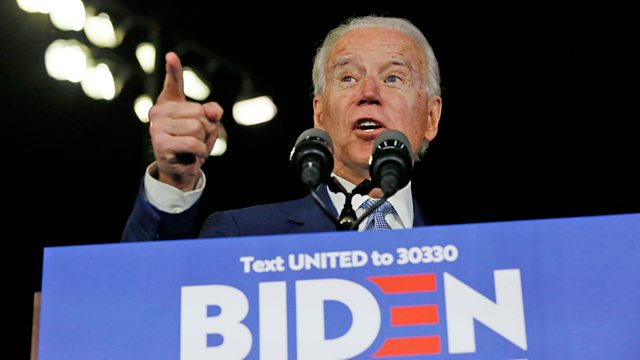 America's Comeback Kid
Stories from Israel, Iraq, South Africa, Russia and the US as Democrats choose a candidate to take on Donald Trump. Joe Biden pulled off an unlikely comeback says Anthony Zurcher.
Trump may deride him as 'sleepy Joe' but this week the former vice president Joe Biden was the rejuvenated, 70 something, comeback kid. He won nine of the 14 states that voted to pick a Democratic White House candidate on Super Tuesday. An astonishing turnaround says Anthony Zurcher.
Israelis went to the polls this week for their third election in just a year. The country's political system has been in deadlock since last April, with no party able to find enough parliamentary seats to build a coalition. If Prime Minister Benjamin Netanyahu is handed the mandate to try and form a government, he'll be juggling that task with preparing for his own corruption trial. Is he the magician of Israeli politics asks Anna Foster.
It's been nearly three years since the Iraqi city of Mosul was liberated from Islamic State. As locals try to rebuild their city and their lives, their efforts are crippled by high-level corruption. Jobs and money are scarce. But Mosul is not lacking in entrepreneurial spirit says Lorraine Mallinder.
South Africa's highly developed economy makes it a magnet for people from elsewhere in Africa. There are more than three and a half million migrants in South Africa, out of an overall population of 50 million. But with politicians accused of stoking anti-immigrant sentiment and attacks on foreigners on the rise Zeinab Badawi wonders if South Africa suffers from 'Afrophobia'.
A team in Moscow has created the putrid scent, in a protest against plans for a perfume store in a historic building with a terrible past. Sarah Rainsford met the activists who have come up with an innovative way of reminding people about Stalin's Great Terror in the 1930s.