Main content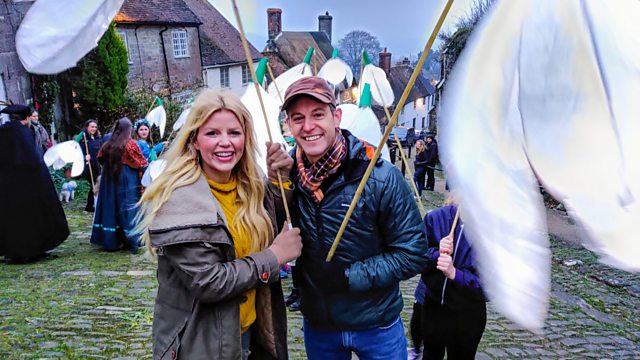 Shaftesbury
Matt, Ellie and Steve visit Shaftesbury to take part in the town's famous snowdrop festival, and Tom Heap asks whether the UK's farmers can go carbon neutral by 2040.
Matt, Ellie and Steve are in Shaftesbury in Dorset, where they take part in the town's celebrated snowdrop festival. Matt meets the growers and enthusiasts dedicated to the small white flowers. He discovers some of the rarer varieties and learns of the high prices some bulbs attract. Steve meets a potter whose snowdrop planters are in demand and who has his own special way of sourcing the clay he uses. Ellie finds out that there is more to spring flowers than just snowdrops. She goes on a seasonal stroll and sees some of the different plants whose early flowering is a blessing for insects. She then joins Matt and the townsfolk of Shaftesbury on a snowdrop-themed lantern parade that takes in the famous cobbled street, Gold Hill.
Elsewhere, Adam meets a trailblazing vet, and Tom looks at whether the UK's farmers can go carbon neutral by 2040.
Snowdrop Festival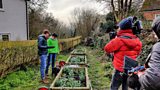 In a few weeks' time the Dorset countryside will be in the first flush of spring.  
And leading the charge is the town of Shaftesbury, with a very special celebration.
Every February, the town is transformed by its residents planting one tiny flower: the snowdrop.
Matt meets the organiser of this amazing seasonal spectacle, Pam Cruikshank.
And he's taken to a secret location to see the Heritage Snowdrop Collection - which has more than 100 varieties.
Wildflower Walk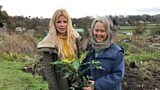 Ellie joins naturalist Brigit Strawbridge Howard on a walk around Shaftesbury looking for early blooming wildflowers. 
Brigit has a keen interest in our native bees so she likes to keep an eye on what's flowering when to make sure there's enough forage for our bees. 
Then it's off to Brigit's allotment, which is an oasis for wildlife, to put some plants in the ground to give our buzzy pollinators a helping hand.
Carbon Crunch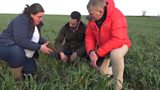 In a week when flooding has caused chaos across the UK, Tom looks at what those who manage the land can do to tackle climate change and global warming.The NFU has set its members the target of producing net zero emissions by 2040 - ten years ahead of the UK government's target.But can farmers really go carbon neutral so quickly? Tom brings a carbon calculating emissions advisor to one farm to work out the answer...
Wood Turner
Ellie heads into the woods to meet Darren Wheeler, a local wood turner and sculptor. 
Darren camps out in the woods to immerse himself in nature and to get inspiration for his wood work from the shapes of the trees and the shadows they cast. 
Back at Darren's workshop, Ellie admires a range of his work before she tries her hand at wood turning.
Under Darren's watchful eye her aim is to make a dibber for Matt to help him plant up snowdrops back in Shaftesbury.  
Snowdrop Lantern Parade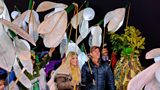 The grand finale of Shaftesbury's snowdrop festival is the lantern parade. 
Matt meet local artist Des Alner who shows him how to make a lantern in the shape of a snowdrop. 
Then Matt, along with a horde of local children, parades through the streets of the town holding his lantern aloft before they are all joined by Ellie. 
Then dance group Steps in Time perform their snowdrop circle dance to wake the Green Man to herald the arrival of spring.
Credits
| Role | Contributor |
| --- | --- |
| Presenter | Matt Baker |
| Presenter | Ellie Harrison |
| Presenter | Steve Brown |
| Presenter | Adam Henson |
| Presenter | Tom Heap |
| Series Producer | Joanna Brame |
| Executive Producer | William Lyons |