Main content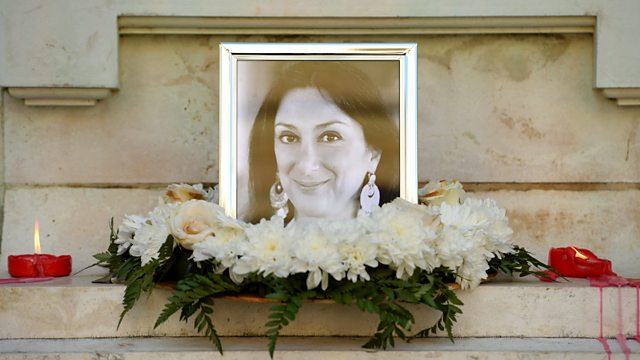 Malta and the Mafia
Juliet Rix says the murder of Malta's most outspoken, most admired and most hated journalist left the Mediterranean island shocked and divided and has changed its image forever.
French prosecutors announced this week that say they have started an investigation into the business activities of the Maltese magnate charged with complicity to murder the journalist Daphne Caruana Galizia. It's just the latest development in a scandal that shocked Europe and led to the resignation of Malta's prime minister last month. The inquiry in Paris is a response to allegations by the reporter's family that, Jorgen Fenech, one of the island richest businessmen, used cash from property deals and racehorses in France to bribe Maltese officials. Juliet Rix is a frequent visitor to Malta. She reflects on how the European Union's smallest country has changed …and not for the better.
The coronavirus epidemic is adding to tensions in Hong Kong, a city already riven by seven months of anti government protests. As the number of infections rise, many are clamouring for the territory to seal itself off from the Chinese mainland. Last week, public hospital employees went on strike to try and force the authorities to close all border crossings. Some Mandarin speaking mainlanders feel unwelcome and relations with Hong Kongers are increasingly strained as Vincent Ni discovered at a delicious but difficult dinner party.
India's once tigerish economy is flagging. And there've been suggestions that growth figures were over-estimated for years, hiding what's been called by one leading economist 'the great slowdown.' But the government of Narendra Modi's BJP party remains relentlessly optimistic. Lesley Curwen who's just back from Delhi and Hyderabad has been testing the water.
Pope Francis dampened hopes among reformist Catholics that he was on the point of relaxing the centuries-old celibacy rule for the clergy – despite a shortage of priests in many parts of the world including the Amazon. There was even speculation that he might allow women to celebrate Mass. But there was no mention of such changes in the papal document. It seems, says David Willey, that Pope Francis has opted to focus not on the internal issue of celibacy but the external challenge of climate change.
There has been much soul searching about how smartphones have killed the art of conversation. The texting culture, the argument goes, is making us lazier, shallower and less literate. But sooner or later slang ends up in the Oxford English Dictionary. Andrew Harding grudgingly admits that language evolves and that common usage eventually becomes correct usage unless you're a dyed-in-the-wool pedant.