Main content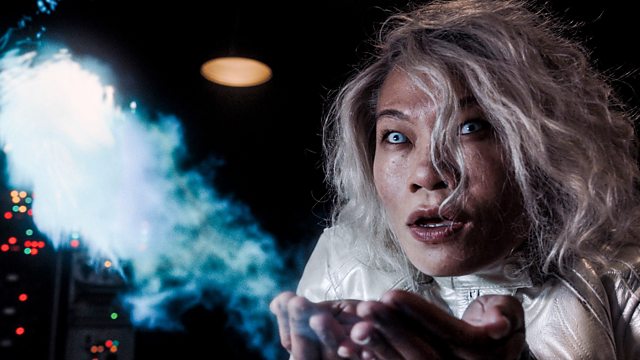 Aziraphale is discorporated but possesses Madame Tracy during a seance. Crowley drives his Bentley through a flaming motorway. Adam and the Four Horsemen begin the apocalypse.
Crowley rushes to Aziraphale's bookshop, desperate to escape Earth together, and is aghast to discover the shop aflame. He runs inside and rescues the copy of The Nice and Accurate Prophecies of Agnes Nutter. Then he walks out of the burning building and heads off on a mission of his own. Convinced he has the power to exorcise demons, Shadwell returns home to Madame Tracy.
Aziraphale finds himself in Heaven, and in trouble – he has no flaming sword, and his earthly body has been discorporated. He tries to return to Earth without a body.
Adam has taken complete control of Them. He's floating in the air, monstrous and scary. Adam says that new friends of his are arriving imminently.
Newt is in a post-coital glow, and Anathema's mission to halt Armageddon continues. They work on deciphering more of Agnes's prophecies.
After Aziraphale's discorporation, Crowley is determined to get as drunk as possible. An immaterial Aziraphale appears and tells Crowley to head for Tadfield airbase.
The three guests at Madame Tracy's seance arrive. The Four Horsemen of the Apocalypse rendezvous in a little cafe.
Madame Tracy's seance has some surprises in store.
Music Played
Timings (where shown) are from the start of the programme in hours and minutes
Credits
| Role | Contributor |
| --- | --- |
| Aziraphale | Michael Sheen |
| Composer | David Arnold |
| Crowley | David Tennant |
| Director | Douglas Mackinnon |
| Voice of God | Frances McDormand |
| Writer | Neil Gaiman |
| Arthur Young | Daniel Mays |
| Deirdre Young | Sian Brooke |
| Adam Young | Sam Taylor Buck |
| Anathema | Adria Arjona |
| Madame Tracy | Miranda Richardson |
| Witchfinder Sergeant Shadwell | Michael McKean |
| Thou-Shalt-Not-Commit-Adultery Pulsifer/Newton Pulsifer | Jack Whitehall |
| Hastur | Ned Dennehy |
| Ligur | Ariyon Bakare |
| Pepper | Amma Ris |
| Brian | Ilan Galkoff |
| Wensleydale | Alfie Taylor |
| The Voice of Death | Brian Cox |
| Herself | Kirsty Wark |
| Pollution | Lourdes Faberes |
| Death | Jamie Hill |
| R.P. Tyler | Bill Paterson |
| Famine | Yusuf Gatewood |
| War | Mireille Enos |
| Beelzebub | Anna Maxwell Martin |
| Ron Ormerod | Johnny Vegas |
| Fireman | Gary Finan |
| Quartermaster Angel | Jonathan Aris |
| Julia Petley | Jayde Adams |
| Mr Scroggie | Martin Wimbush |
| Brenda Ormerod | Jenny Galloway |
| Immigration Officer | Ramanna Banger |
| Waitress | Jackie Clune |
| Radio Newsreader | Tim Bentinck |
| Dagon, Lord of the Files | Elizabeth Berrington |
| Horace | Steve Oram |
| Nora | Mercedes Grower |
| Lisa, Telephone Sales | Rosie Day |
| Police Officer Fred | Jordan Long |
| Police Officer Julia | Sharon Ballard |
| Gate Guard | Andre Nightingale |
| Death/American General | Euan Macnaughton |
| Screwdriver Officer | Kevin Millington |
| US Silo Commander | Lawrence Joffe |
| US Silo Crewman | Johan Baird |
| Russian Submarine Captain | Visar Vishka |
| Russian Submarine Crewman | Egor Korzinikov |
| Airbase Soldier | Jennifer Armour |