Main content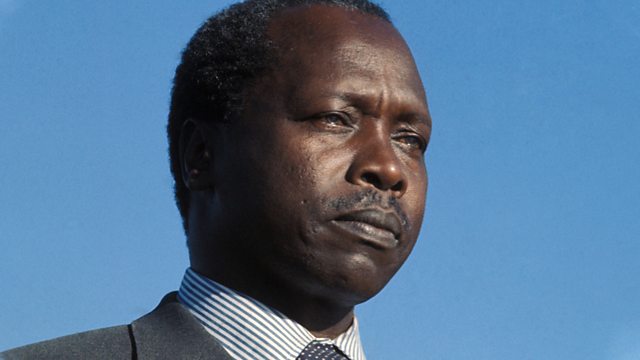 Daniel arap Moi, Feng Huiyan, Professor Donald West, Colonel 'Mad Mike' Hoare
Julian Worricker on the Kenyan leader, Daniel arap Moi; Feng Huiyan, who taught English to countless people in China; the criminologist Donald West; the mercenary leader Mike Hoare.
Pictured: Daniel arap Moi
Julian Worricker on:
Daniel arap Moi, who led Kenya for 24 years, but did so amidst corruption scandals and the repression of political opponents...
The teacher Feng Huiyan, who taught millions of Chinese people how to speak English via textbooks and broadcasting...
The pioneering criminologist and clinical scientist Donald West, who wrote a ground-breaking study of homosexuality in the 1950s...
And the mercenary leader, known as 'Mad Mike' Hoare, who inspired the film 'The Wild Geese'....
Interviewed guest: Victoria Brittain
Interviewed guest: Vivian Yang
Interviewed guest: Dr Adrian Grounds
Interviewed guest: Professor Jeffrey Weeks OBE
Interviewed guest: Chris Hoare
Interviewed guest: Tim Ecott
Producer: Neil George
Archive clips from: Daniel arap Moi's funeral, NTV Kenya 12/02/2020; Weekend, BBC World Service 08/02/2020; Final Attack on Shanghai 1937, British Pathe 13/04/2014; Controversy: Criminology Is Obscuring The Causes Of Crime, BBC Two 23/08/1973; PM, Radio 4 11/03/1996; Homosexuality: Its Nature and Causes by Donald West, Aldine Transaction 22/05/2008; Gay Life, Straight Work by Donald West, Paradise Press 01/03/2012; Mike Hoare Talks Africa, Emma Goldman 15/04/2017; The Wild Geese, directed by Andrew V. McLaglen, Richmond Film Productions/Victory Films/Varius Entertainment Trading A.G. 1978; Last Word, Radio 4 10/03/2019; Breakfast Time, BBC One 20/08/1986.
Daniel arap Moi
Born 2 September 1924; died 4 February 2020, aged 95.
Last Word spoke to journalist Victoria Brittain.
Feng Huiyan
Born 4 August 1931; died 27 January 2020, aged 88.
Last Word spoke to her daughter Vivian Yang.
Professor Donald West
Born 9 June 1924; died 31 January 2020, aged 95.
Last word spoke to forensic psychiatrist Dr Adrian Grounds, and gay activist and historian Professor Jeffrey Weeks OBE.
Colonel 'Mad Mike' Hoare
Born 17 March 1919; died 2 February 2020, aged 100.
Last Word spoke to his son Chris Hoare, and former BBC journalist Tim Ecott.