Main content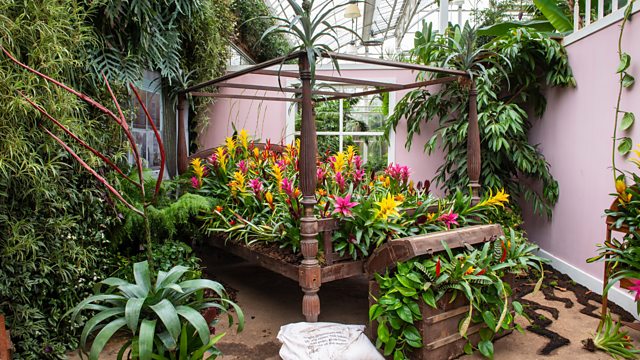 Winsford
Kathy Clugston and the team are in Winsford, Cheshire.
Kathy Clugston is in Winsford, Cheshire. She's joined by Bob Flowerdew, Bunny Guinness and Matthew Wilson to answer the audience's horticultural queries.
This week, the panellists consider the best way to prune a grapevine and a variety of spring bulbs to grow on clay soil, and advise on growing hydrangeas in pots.
Garden Manager Emma Allen meets Peter Gibbs at RHS Wisley. She shows Peter round the new Giant Houseplant Takeover exhibition and discusses the growing houseplant trend.
Producer: Laurence Bassett
Assistant Producer: Jemima Rathbone
A Somethin' Else production for BBC Radio 4
Plant List
Q – I discovered my garden is trapped in the psychedelic 60's. Is there any way I can tone it down without digging it all up and starting again? (2 minutes 05)
Bunny – Rhododendrons
Matthew – Harlow Carr hybrid primulas (candelabra primula 'Harlow Carr')
Manchurian Cherry Tree (Prunus maackii)
White Stem Birch Tree (Betula Jacquemontii)
Bob – White -flowered foxglove (Digitalis purpurea)
Hollyhock (Alcea rosea)
White flowered climbers
Q – How and when do you prune or cut-back a grapevine? (6 minutes 30)
Q – We have 2 Silver Birch (Betula Pendula) trees about 8 feet (2.4m) apart. Last year one of them produced its spring foliage and then dropped it all. Is the leafless tree diseased and should we have it cut down? (8 minutes 16)
Q – I have a large Oak tree which takes all the moisture from the ground. Any ideas on what to grow? (11 minutes 45)
Bunny – Asarum europaeum (European wild ginger)
Hellebore – Helleborus x hybridus (Lenten rose)
Bulbs – Aconites / Snowdrops/ Daffodils / Bluebells
Feature (15.35 minutes)
Parlour Palm (Chamaedorea elegans)
Howea Forsteriana (Kentia palm)
Dypsis lutescens (Areca palm)
Bromeliads
Pineapple Bromeliad (Ananas comosus)
Giant Nepenthes
Zamioculcas (Zanzibar gem)
Ficus pumila (Creeping Fig)
Sansevieria Cylindrica
Dracaena
Euphorbia ingens (Candelabra tree)
Q – I love spring bulbs – but I have a very clay soil and suffer a lot from them rotting. Are there any special varieties I could try to annihilate that?  (24 minutes 15)
Matthew –Fritillaria meleagris (Snake's head fritillary)
Bunny – Camassia quamash (Common camas)
Lily - Lilium martagon
Q – I would like to grow a hydrangea in a pot. Can the panel give me some advice on size, positioning and feeding? (27 minutes 10)
Matthew – Hydrangea arborescens 'Incrediball'
Hydrangea serrata 'Bluebird'
Hydrangea macrophylla 'Zorro'
Bunny – Hydrangea paniculata 'Limelight'
Hydrangea arborescens 'Annabelle'
Correspondence (30 minutes 30)
Q – All the tops of my leeks have been eaten, and they haven't swelled. Where did I go wrong?  (37 minutes 15)
Q – I bought a greenhouse to grow more plants from seed. It is not heated and there is no power, but I don't seem to be very successful. Where am I going wrong? (35 minutes 20)
Bunny – Cleome (Spider flowers)
Cosmos
Q – My 16-year-old son is passionate about a career in horticulture. What have you done in your career that you would advise my son not to do? (38 minutes 30)