Main content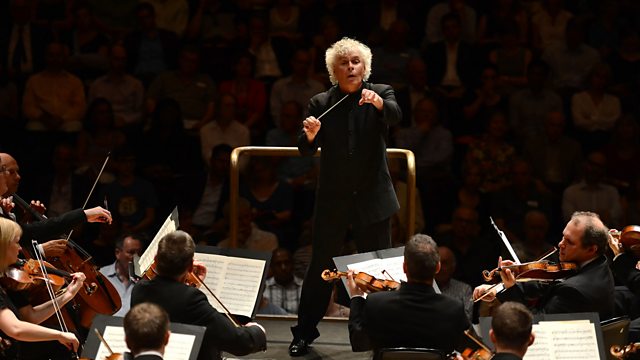 Berg and Beethoven
Live from the Barbican, Simon Rattle conducts the London Symphony Orchestra in Berg's Violin Concerto with Lisa Batiashvili, and Beethoven's oratorio Christ on the Mount of Olives.
Simon Rattle has made the not very difficult prediction that Beethoven will be absolutely inescapable this year, the 250th anniversary of his birth. He's made sure of it in this concert which pairs Berg's Violin Concerto with Beethoven's rarely heard oratorio Christ on the Mount of Olives. Rarely heard perhaps because when it's judged by the yardstick Beethoven himself set (it comes from the same year, 1803, as the mould-breaking Eroica Symphony), it falls short. But there's much to enjoy here and it's hard to know why it's been so thoroughly neglected. It focuses on Jesus's humanity as it tells the story of His last hours, Calvary looming but not depicted. Be prepared for some striking music, including an atmospheric orchestral introduction, stirring choruses and coloratura arias. And a performance of anything with the LSO and the Simon Halsey-prepared LSO Chorus conducted by Rattle is going to be special.
Berg's 1935 Violin Concerto has long been considered a 20th-century classic. Dedicated by Berg 'To the memory of an angel' (the 18-year-old daughter of Berg's close friends), it manages to walk the tightrope of 12-tone technique and recognisable tonality, movingly including a Bach chorale at the beginning of its final movement. It's played tonight by world-renowned Georgian-born German violinist Lisa Batiashvili.
Presented live from the Barbican Hall by Martin Handley.
Berg: Violin Concerto
8.10pm
Interval music (from CD)
Haydn: String Quartet No. 5 in G Major, Op.33 "How do you do?"
Quatuor Hanson
8.30pm
Beethoven: Christ on the Mount of Olives
Lisa Batiashvili (violin)
Elsa Dreisig (soprano)
Pavol Breslik (tenor)
David Soar (bass)
London Symphony Chorus
Simon Halsey (chorus director)
London Symphony Orchestra
Sir Simon Rattle (conductor)
Photo - Mark Allen
Featured in...
Programmes, concerts and features celebrating the 250th anniversary of Beethoven's birth.

We broadcast more live and specially-recorded concerts and opera than any other station.