Main content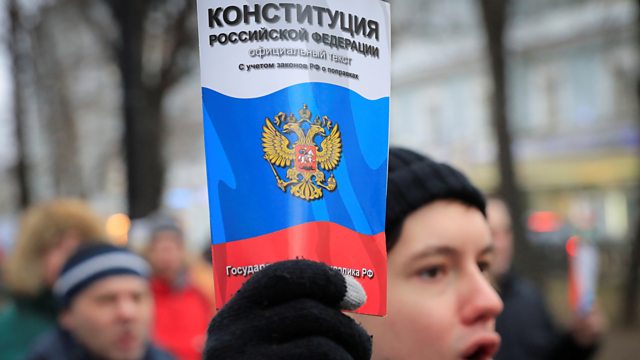 Putin Forever
Steve Rosenberg wonders what the proposed amendments to Russia's constitution mean for the future of Vladmir Putin and asks how voters in Magnitogorsk view their president.
The residents of an ordinary Moscow apartment block were recently tricked into showing what they really think of their president by a prankster who installed a massive portrait of Vladimir Putin in their lift. Some of the reactions were incredulous, some angry and a few unprintable ..and they had the whole country in stitches. Yet many Russians are confused rather than amused about proposed changes to their constitution. When President Putin dropped his bombshell announcement last month about rearranging Russia's power structure, some wondered if he was looking for a smooth exit or rather that he wanted to stay in charge of his country for life. Steve Rosenberg has been to Russia's industrial heartland to canvass opinions.
Yesterday the left wing senator Bernie Sanders won the New Hampshire Democratic primary contest. He declared the night "the beginning of the end" of Donald Trump but it is just one stage in the race to unseat the President and win the White House in November. Away from the campaigning in Iowa and New Hampshire voters in New Jersey tend towards the centre ground of American politics. And they're a savvy bunch in the Garden State. Sandra Kanthal says the best place to hear about the twists and turns of the 2020 US elections is over the countertop of the venerable diner in her home town.
This week China's handling of the coronavirus outbreak has drawn comparisons with the way in which the Soviet authorities handled the Chernobyl disaster of 1986. Had the USSR sounded the alarm sooner, the global ramifications of the accident would perhaps not have been so severe. When Li Wenliang, a doctor in Wuhan first tried to warn of the outbreak of the coronavirus in December, he was investigated by police and accused of scaremongering. Now he has been killed by the virus which has been declared a global health emergency. Many foreigners have left China on specially chartered flights but Andy Bostock has stayed behind in Suzhou, a city near Shanghai.
Mali may have a reputation for armed Islamic extremists, bombs, kidnapping and violence between Fulani herdsmen and sedentary farmers. But the country is also known for its photographers and one of Africa's largest photography festivals, Bamako Encounters, which is held in the capital every two years. Now celebrating its 25th birthday, the festival is at a turning point says Fleur Macdonald with work shown not only in museums and galleries but also in people's homes.
Life in Ladakh, a region administered by India in the Western Himalayas is often harsh. Remote villages lack transport links communication and many other basic facilities. Getting an education has long been a challenge, especially if your parents are nomadic goat herders. But Andrew Eames has been to visit a boarding school determined to boost the life chances of its young Ladakhi pupils.
Last on
Broadcast