Main content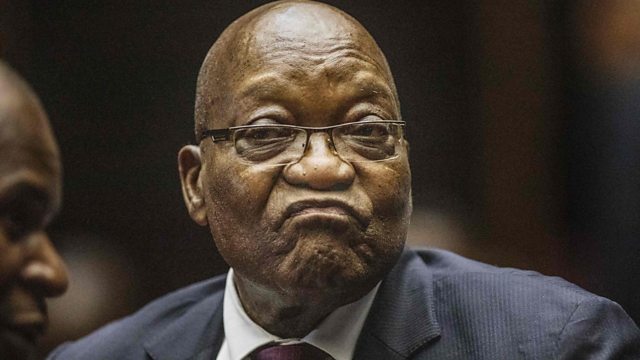 Jacob Zuma's Sick Note
South Africa's former president attempts to sidestep a corruption trial with a sick note. But many are profoundly bored and embarrassed by the Jacob Zuma show says Andrew Harding.
South Africa's former president Jacob Zuma has been charged with a string of crimes including corruption, racketeering and money-laundering. He denies all allegations of wrongdoing and earlier this week didn't attend his trial saying he was too sick. But photos posted on social media suggest otherwise and Andrew Harding says its South Africans who are really sick - sick of Zuma's excuses.
A self-described ''Asian man who's good at math", Andrew Yang is a very long-shot for the White House. But self deprecating humour aside, the Chinese American entrepreneur and candidate for the Democratic party has lasted longer in the contest than many expected. He broke down in tears last week in Iowa, saying that campaigning for the last two years had been "the journey of my life." Among the audience were some curious students from mainland China. Some 360,000 Chinese students now study in the US but what are they learning about the American way of voting, asked Zhaoyin Feng, the BBC's Mandarin correspondent in Washington.
In celebration of the anniversary of the 1979 Islamic Revolution next Tuesday, there will be mass rallies across the country and fiery speeches about the Great Satan – the demonising epithet for the United States. This year long simmering tensions with America reached boiling point after the killing of Iranian General Qassem Soleimani in Baghdad. But this hostility isn't just between countries. The government in Tehran has plenty of Iranian critics as well, both inside and outside the country. And some of them didn't just live through the revolution – they once longed for it to happen. - Supported its aims. - Even took part in it themselves. Sadeq Sabah who was head of the BBC Persian service for some years, has his own memories of dangerous days in 1979 and afterwards.
The flow of grisly headlines coming from Mexico has been almost constant in recent weeks. A group of Mormon mothers and children were murdered at the end of last year, this week four boys were shot dead in an amusement arcade and the bodies of two conservationists were found in a Monarch butterfly sanctuary in the west of the country. But many simply vanish in Mexico's violent drug war. With no body or any clear sign as to what happened to them, families are left desperate for information. Will Grant was reminded of meeting one such family following a different breed of criminal abduction.
Will Grant. In the early 1990s there were newspaper headlines comparing Sicily's capital Palermo to Beirut. Following the killings of two high profile anti mafia judges in 1992, the government dispatched the army to contain what by that point had become an all-out war against the Italian state. The buildings in Palermo fared little better than residents. Palaces and villas were neglected while the mafia built concrete tower blocks in the suburbs. But recently the historic centre was declared a world heritage site and one man has helped to bring Palermo back from the brink says Dany Mitzman.