Main content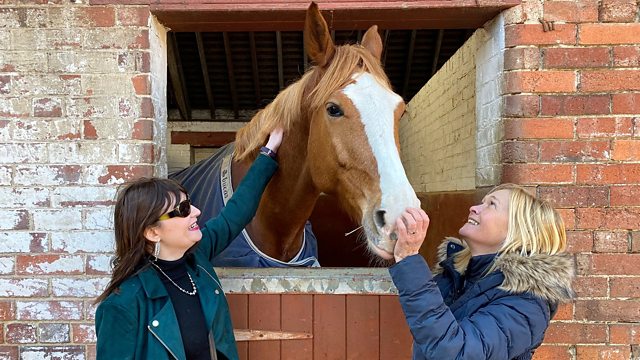 e-scooters, Nicola Naylor and a blind bride
The Government is consulting on the use of e-scooters as part of a wider look at urban transport. They could cut carbon, and improve mobility, but are blind people being heard?
As the government consults on the use of e-scooters on roads, Christiane Möller of the German Federation of the Blind and Partially Sighted (DBSV) tells us about the impact the vehicles have had on blind people in her country. And Adam Solan, a teenager who has already struggled with abandoned bikes for hire in Oxford, gives us his perspective.
And Valentine's Day is nearly here. But what are the challenges of being a blind bride? Sassy Wyatt is a blogger and she's agreed to keep us about how she is preparing for the big day...
It won't be long until we know exactly who will represent Great Britain in the Paralympics. And we're taking a closer look at some of the runners and riders. But Nicola Naylor won't be travelling at speed. She talks to Fern Lulham about the exacting skill of dressage.
Presented by Peter White
Produced by Kevin Core
Blind Bride
Sassy gave us a 'Blind Bride' audio diary this week. A link to her blog 'Thinking Out Loud' is
HERE.
Transcript: e-scooters, Nicola Naylor and a Blind Bride
Downloaded from www.bbc.co.uk/radio4
THE ATTACHED TRANSCRIPT WAS TYPED FROM A RECORDING AND NOT COPIED FROM AN ORIGINAL SCRIPT.  BECAUSE OF THE RISK OF MISHEARING AND THE DIFFICULTY IN SOME CASES OF IDENTIFYING INDIVIDUAL SPEAKERS, THE BBC CANNOT VOUCH FOR ITS COMPLETE ACCURACY.
TX:  11.02.20  2040-2100
PRESENTER:          PETER WHITE
PRODUCER:            KEVIN CORE
White
Good evening.  Tonight, the e-scooter – a new way to keep people out of their cars or one more piece of street litter for blind people to trip over.  And a possible solution – get a horse.
Clip
You can't be worried about what's in front of you and shrinking back or hesitating because the horse becomes insecure, that's the recipe for danger.
White
Competition rider Nicola Naylor, hopefully en route to the Paralympics.
The e-scooter is just one of a raft of transport innovations designed to speed up movement around our cities, while cutting carbon.  If you've not come across them, they're a bit like a skateboard with a handle bar at waist height and they can reach speeds of up to 30 miles an hour.  So, what's not to like?  Well plenty if you happen to be blind or indeed, arguably, any pedestrian.
They're currently illegal on UK roads but as the government is consulting on whether to change that, blind campaigners in European cities are trying to get them removed.  Christiane Möller, legal advisor for the German Federation of the Blind and Partially Sighted, told me why.
Möller
We have a lot of e-scooters on the footpaths, especially in areas where there are a lot of tourists and these e-scooters are obstacles in the way of blind and visual impaired persons.  You fall over them or you lose orientation when they're just parked near a red light, a crossing of the street, or near a door.  You can be sure that, for example, in front of a door of a public transport you have maybe 10 or so in just one big e-scooter hill, I would call it.  We have really a lot of them on the streets, especially in the middle of Berlin.
White
And are there not proper places, official places, where they're supposed to be left?
Möller
They should be in order but the problem is you should put your e-scooter on a special place but no one does.  So, they're lying around everywhere and that's the problem – in the middle of the way and yeah.
White
And from the point of view of blind people, what are they tending to say about this?
Möller
We organised, together with other organisations, we really tried to get the law changed and we had a big campaign, demonstrations and stuff because we didn't want to have e-scooters on our streets at all but our government wanted to have them and at least we were able to achieve that they are not allowed on footpaths.  But the problem is you have a law but someone has to make sure that the law is also enforced.
White
Christiane Möller.
Well proposals to free up transport in our cities, by relaxing the rules on e-scooters in the UK, alarmed 16-year-old Adam Solan from Oxford.  He's already had problems with navigating where he lives, thanks to the impact of three bike hire companies.
Solan
Well at the time I was preparing for guide dog training, which I didn't pursue later on, but it was affecting me in the sense that with my mobility and I was having problems just because I had those bikes in the way, literally, everywhere.
White
Was it one of the things that discouraged you from having a dog?  I would have thought in some ways it would have encouraged you because…
Solan
It did definitely play a factor.  It did.  I mean it just overall played with my confidence because not knowing what I could hit into was quite scary in fact.
White
They're not here yet, are you yelling before you're hurt?
Solan
Right, no, I'm just being cautious, very cautious, I'm trying to stay safe.  And I think I've heard many incidents already from other places that they are introduced.  And so, it's just putting me at an unease right now.
White
We've spoken to two of the main e-scooter companies.  Lime told us they've met with the RNIB and their scooter speed would be capped at just over 15 miles an hour and we also spoke to the company Bird and both firms say they'll employ teams to deal with antisocial parking.  Doesn't that put your mind at rest?
Solan
No, because you mention antisocial actually, in fact, firstly, they're soundless, so as being visually impaired I wouldn't hear it coming and it's an accident waiting to happen.
White
What do you think of the environmental argument, which is this is an efficient way of getting around and we have to cut carbon?
Solan
My question to that is – is the bike's not good enough? Is bicycles not good enough?
White
But you were pretty unhappy about bicycles and the way that they were used.
Solan
Yeah, I mean in a sense there's – I mean you've got bikes, you've got these cycles that are still in, all these other Boris bikes and you name it.  And I think that's already an obstacle already, therefore, if you increasing in these other sort of transports it's not increasing the amount of facilities, it's just causing more of a blockage and more of an obstacle for people like me and yourself to just, come across in everyday life.
White
That's Adam Solan.  And we'll keep you posted about that consultation.
Now, this Friday is the big day for the romantically inclined.  Yup, Valentine's Day is here again and who knows how many of those declarations of love will lead to wedding bells.  Not that Sassy Wyatt needs St Valentine, she and her fiancé have already named the day.  And she's keeping an audio diary for us, offering a little practical advice for any blind bride trying to arrange the perfect wedding.
Music
Wyatt
Hey, I'm Sassy Wyatt, I'm totally blind and I'm getting married to my wonderful fiancé, Grant, in March of 2020.
Music
Wyatt
We've been engaged since 2017 and for that entire time I've been scouring the internet for tips and tricks for blind brides on how to plan a wedding, with little to no sight.  I was born sighted, so, I guess I've had the wedding industry visuals stressed upon me of perfect colours, matching schemes and themes and everything like that and I just found it really disheartening when I was looking online because there was no blind brides talking about their experiences but there was no real help out there either.
Music
            Wyatt
So, do you want to explain what it looks like?
Ellie
It's got one shoulder strap at the top, it's kind of slightly ruffled.
Music
Wyatt
So, this is Ellie, she's my best friend and bridesmaid and she's going to be describing the dress that she's wearing on the big day.
Ellie is also visually impaired, although she has a lot more vision than I do.
Music
Ellie
And then it's got a lovely sequined belt detail just underneath the chest. 
Wyatt
Right, and it's all chiffon isn't it?
Ellie
Yes.
Music
Wyatt
I've been really enjoying taking her along on this journey because she understands and appreciates, from a visual impairment perspective, how descriptions and taking the time to look at things properly and having the autonomy to choose for yourself, is really important.
It's also great that she's super excitable about the wedding and just wants to tell me how beautiful I look in every dress.
Music
My biggest tip for planning a wedding when you are blind or visually impaired is to take along people that you absolutely trust. 
When I went wedding dress shopping, I took my mum and my sister.  For me, I just felt so blind and I know that sounds bizarre but they were telling me I looked absolutely stunning in these wedding dresses, and let's be honest, when you try wedding dresses you should look beautiful because that's what they're designed to do, but I just felt like my blindness was hindering me and it started to get on top of me actually.
So, back in April 2019, I ended up taking my two best friends who both have different varying levels of vision and I spoke to the girls at the shop and they went above and beyond.  The three of us had literally the most magical day because the women took the time to explain the cut of the dress, the style, the texture.  I had time to feel it and see it, almost, with my eyes and my hands and it really made the whole thing so special.  Instead of just taking the opinion of what my lovely mum and sister told me, it was like I was seeing it with eyes that worked and that, for me, was really, really powerful.
Music
Wyatt
What colour is it Ellie?
Ellie
Lovely Cadbury's purple.
Wyatt
Yeahh.
Ellie
Exactly my favourite colour.
Wyatt
And mine too.  Exactly why it's for the wedding – weee.
Music
White
And with Sassy's permission we may be hearing more of her audio diary as the big day approaches.
And now for news of another partnership.  It's sometimes known as dancing on horseback but dressage is a highly competitive sport and Nicola Naylor a very skilled exponent of it.
With Paralympic selection day not far away Nicola is currently working hard with her horses in Ashford in Kent.  Fern Lulham has been along to see her in action.
Naylor
So, this one is Donatella.
Lulham
Oh, hello.
Naylor
This is the supermodel.
Lulham
Are you eating from my bag?
Naylor
Oh yes, I'm afraid your bag will not be safe.  Will it Donna?
Despite being partially sighted as a child I led a really normal childhood.  My parents both rode, my father rode polo ponies, my mother was an instructor and a showjumper and my brother and I learnt to ride and then we had a little pony and it was just part of what we did.  Before I knew it, I was show jumping and I got good at it and I ended up at a training yard with showjumpers.  I don't think I really questioned it until I switched from ponies to horses, which is something you do at the age of 16 in the show jumping world.  And horses are not as dextrous, they're not as wily as a pony.  So, whereas if I got it wrong a pony could put in a quick stride or a short stride, the horses were less able to do that.  When you are riding a horse, you need to give the horse that confidence, you can't be worried about what's in front of you and shrinking back or hesitating because the horse becomes insecure, that's the recipe for danger.
Lulham
Did your parents just literally treat you exactly the same as your brother, despite you having a visual impairment?
Naylor
Yes, for which I'm very grateful because I think that gave me a lot of courage, it made me the person I am today.  On the other hand, it made it very, very hard when I lost what little sight I had.  Physically it wasn't so hard, but emotionally it then suddenly felt that I couldn't do all these things that I'd been brave enough to do, so, it almost felt that I wasn't brave enough anymore.
Lulham
How did that make you feel, just losing the rest of your sight?
Naylor
Oh, I handled it terribly badly, it was really hard and it felt like – it felt like the end.  By then I'd already long since dropped the horse riding but it made me feel that I had to drop all my other plans and ambitions as well.  And it took me many, many years to get back on the road.
Lulham
Horse coming through.
Naylor
There's always horses coming through.
Two careers, three careers later and a family later was when I finally got the opportunity to get back on a horse.  And that opportunity just fell my way, it wasn't something I was looking for or created.  And then when I got back on, it just felt right, it just felt like, this is now what I need to do because I thought I couldn't do it and actually I've discovered I can.  I actually started because it was my daughter who had started riding and her trainer, who was a dressage trainer, knowing my history, said to me – Well, you could ride dressage, dressage is done in a 60 by 20 arena, it's a set space, demarcated by letters, there is actually no reason that you can't do that as a blind rider, so why don't you get back on.  But I don't just ride in Para dressage, I also ride in able-bodied dressage.  And I've got just as exciting goals for the year ahead with the able-bodied dressage, I've just got my scores, which will enable me to be selected to compete for Great Britain internationally, along with all the other international able-bodied riders.  So, to me, that's just a huge achievement and that is also my goal for the year ahead on some of the horses to go and compete at an international abroad.
Lulham
He's very gentle…
Naylor
Yeah, he's very gentle.  Good boy.
Lulham
You have a system now, in terms of training with your trainer Daniel, how was that developed and how have you built the relationship between you now, training together?
Naylor
Oh yes, there was a few arguments when we first started because he would be saying – Listen, to me, don't just go off on a tangent and do it in your own way.  Sometimes I would think well, he should have called the letter by now and he's not so, I'm going to turn anyway.  And he would get, understandably, very cross and tell me to wait.  Now I think, well, we're both much more tuned into one another and we have got the system much more polished.  When we go to a competition, Daniel will stand at X, which is the centre point of the arena, and he will call those letters one metre before I reach it.  I know that I'm about to approach a letter and of course I also know my choreography, so I know what I'm meant to be doing at that letter.  That's why I'm doing the whole thing by constantly locating where his voice is because his voice is actually telling me how far away I am from the letter.
Hello Sam.  Sam is enormous, I mean he's properly nearing 18 hands.  He loves cuddling, he's very affectionate.
Lulham
Oh, he's licking me.
Naylor
Yes, you're a gentle giant aren't you Sam?
Lulham
What's been your proudest moment to date?
Naylor
Oh, there's been so many.  Well, there's very proud moments on a daily basis when you just achieve some small thing on a horse that you've been struggling and struggling and struggling to do and you feel you'll never do it and suddenly it goes click and you can do it.  And that is probably as proud a moment as all the things that you may win when you're out competing.  Those moments are the real moments that keep you going because for every time you go out and win a trophy, there's lots of competitions that you go out and fail miserably.  So, for me, the pleasure and the pride is in that school on a daily basis when something just goes right, which you've been trying to perfect for, for sometimes years.
Lulham
What do you think makes the difference between somebody who just says – I'm blind, I could never get on a horse – and somebody who says – Yeah, I'm blind and it might be harder but I'd love to give it a go?
Naylor
Maybe the difference is in your upbringing, maybe it's your personality, maybe it's the support of the people around you or maybe it's all of those things that make the difference.  I have been contacted by more people starting out riding, not necessarily the people themselves but sometimes the support workers or the person who's the volunteer at the riding for the disabled.  I do find that really encouraging.  There are clearly visually impaired children finding their way on to horses and at a competitive level.  So, whether it's getting on a horse or playing a musical instrument or whatever is the thing that you want to do, I think you've got to want to do it enough is part of it and then I think you need the right support and the right opportunities to give it a go.
I've also here got a football with nuts in that we give them to play with.
Lulham
Go on Sam.
Really exciting, I understand that you're hoping to be selected for the Paralympics this year, can you tell me a little bit about that selection process and what it involves?
Naylor
The selection process itself involves going to some named competitions and competing against others and it really comes down to the scores that you achieve and partly too your previous experience.  I think it would be amazing if we went to Tokyo, I think realistically, where I am with my horses, it may be Paris, which is the Olympics after but the journey, in itself, is exciting.  Para dressage is multidisciplinary sport, if you like, we are not necessarily competing against people with the same disability as ourselves.  And I have been at meetings where we're referred to as not being disabled because we are sensory disabled and I'm not sure I've quite grasped that difference.  I mean, to me, it's all a disability.
Lulham
So, can we expect a gold medal?
Naylor
Well, hopefully, one day but who knows when that day will be?
Horse noise
Lulham
Thanks Sam.
White
That's Nicola Naylor with our reporter Fern Lulham.
And we'll be keeping a close In Touch eye on other visually impaired Paralympic hopefuls as the Tokyo games approach.
And that's it for today.  We always welcome your comments.  You can leave a message on our phoneline, the number 0161 8361338.  Or email intouch@bbc.co.uk.  Our website is at bbc.co.uk/intouch.  And from there you can also download tonight's and past editions of the programme. 
From me, Peter White, producer Kevin Core and the team, goodbye.