Main content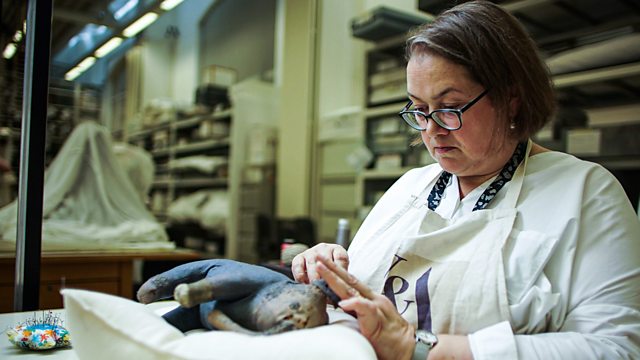 Behind the scenes at the Victoria and Albert Museum, a toy elephant needs urgent TLC, Christian Dior gowns get a new lease of life, and Kylie's dressing room gives up its secrets.
Inside every museum is a hidden world, and now, cameras have been allowed behind the scenes at the world-famous Victoria and Albert Museum in London.
Only a small part of the two million wonders in the collection are on display to the public. But in this new series we go behind closed doors to explore all the treasures of art, design and performance the museum has to offer.
We follow experts and conservators at work in this treasure trove of the nation's favourite objects, as they breathe new life into fragile marvels, uncover hidden stories, and battle to keep the past alive.
In this week's episode we follow the charming story of a hand-made children's toy - Pumpie the elephant. Pumpie was made a hundred years ago by the Cattley family in west London. The children whose beloved stuffed toy he was made special outfits for him, painted his portrait, and took him with them on holiday. But Pumpie has suffered major moth damage over the years, and now needs urgent restoration.
Curator Will takes the treasured toy to head textile conservator Jo, who dyes new felt to patch up Pumpie's moth-eaten trunk, darns his miniature admiral's outfit and restores his original brass buttons so that he's shipshape to go out on loan for a special exhibition.
But before Pumpie packs his trunk, a relative of the family who once owned him is invited into the conservation workshop to meet him for the first time.
Meanwhile curator Charlotte is on the case of a missing woman. The face of a beautiful 18th-century aristocrat has been meticulously painted in enamel on an ornate gold and enamel snuffbox. But nobody knows for certain who this mysterious woman might be.
Charlotte is determined to get to the bottom of this question with a visit to historic Ham House. She compares large-scale portraits and other miniatures with the snuffbox to establish the identity of Lady Frances Carteret.
Behind the scenes of the spectacular Christian Dior exhibition, we uncover the expert skill involved in creating bespoke mannequins to display the gowns. Each mannequin is sculpted by textile conservators Lillia and Lara to exactly fit the dimensions of each dress's original owners. Pamela Mann, the original owner of a spectacular raspberry-pink cocktail dress, comes in to the Museum to see the results of the team's labours, and tells us the story of how her husband - a former physician to the Royal Household - bought Pamela the dress from Harrods in the 1950s.
In the performance galleries, rock and pop curator Vicky and conservator Susana take us inside Kylie Minogue's dressing room, which is on display as a time capsule of the star's 2007 tour. As they check the condition of the dresses, shoes and make-up, we discover the significance of the objects from this moment in Kylie's life - after her treatment for breast cancer.
Finally, paper conservator Anne gets to grips with a colourful Victorian curiosity called a paper peep-show. This folding paper marvel was made as a souvenir of the Great Exhibition in 1851, and is made up of a series of hand-painted cardboard plates that magically open like an accordion.
But the 170-year-old paper object is so delicate that it's in danger of falling apart. We follow the careful surgery required, using tiny pieces of Japanese paper and wheat starch to restore the beautiful piece so that visitors will be able to take a peep into the past and see the Great Exhibition for themselves.
More episodes
Previous
You are at the first episode
Credits
| Role | Contributor |
| --- | --- |
| Expert | Jo Hackett |
| Director | Rob Farquhar |
| Expert | Will Newton |
| Series Producer | Vari Innes |
| Expert | Oriole Cullen |
| Executive Producer | Ed Coulthard |
| Expert | Lara Flecker |
| Executive Producer | Alistair Pegg |
| Expert | Lilia Tisdall |
| Production Manager | Laura Miller |
| Expert | Charlotte Johnson |
| Production Company | Blast! Films |
| Expert | Vicky Broackes |
| Production Coordinator | Olly Cromack |
| Expert | Anne Bancroft |
| Producer | Robin Ockleford |
| Expert | Catherine Yvard |
Featured in...
New programmes and archive for a week-long celebration of museums and galleries.

Exploring national museum collections at a time of enforced closure.