Main content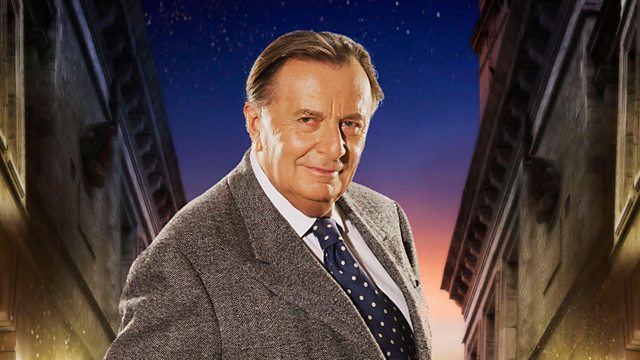 Barry Humphries returns with another culturally thrilling series of vintage music. In this show, he celebrates the Roaring Twenties, the era of the Bright Young Things.
Barry Humphries is back on the wireless by popular demand. He returns to BBC Radio 2 with another culturally thrilling series of vintage music which provide entertaining and thought-provoking musical snapshots from the past. Barry's enthusiasm for the music of the past is infectious and he's now firmly established as a trusted and credible guide to forgotten music from the past. This is his fourth series of vintage music for BBC Radio 2. Barry says, "My Turntable Time Machine spins at 78 r.p.m. to transport listeners back to a time of friction in Europe, economic uncertainty and hung parliaments. Thank goodness we live in less turbulent times!"
Despite featuring some very old music, Barry's specialist music shows are relevant and contemporary in tone. The music selected by Barry carries musical warnings from history and, combined with his unique commentary, each show shines an entertaining and thought-provoking light on current affairs.
PROGRAMME 1
Barry Humphries sets his turntable time machine to a rate of 78 r.p.m. to take listeners back to the era of the Bright Young Things - the flamboyant, rebellious, decadent, irresponsible, progressive and totally promiscuous, 1920s! "They didn't call them roaring for nothing!" he says. The 1920s, also known as The Jazz Age because of the success of the F. Scott Fitzgerald novel, Tales of the Jazz Age, published in 1922. It was also the era of the Bright Young Things, whose flamboyant behaviour inspired the cult of celebrity in Britain, as news of the group's exploits made front-page headlines almost daily! For instance, Zita Jungman & her sister Theresa, just for a laugh, famously tried to spend the night in Madam Tussaud's Chamber of Horrors. They removed the wax models of the Princes in the Tower and made themselves a bed. They were eventually discovered by security staff during the night. The Bright Young Things included the likes of Olivia Plunket Greene and her brothers, Elizabeth Ponsonby (the original It Girl who drank herself to death before she was 40), Stephen Tennant (was labelled as the brightest star of the Bright Young Things), Brenda Dean Paul (known as the society drug addict), Bryan Guinness (heir to the Guinness brewing fortune and whose first wife, Diana Mitford, left him for Oswald Moseley), Evelyn Waugh (novelist whose literary works were inspired by the Bohemian group's exploits), Cecil Beaton, Elsa Lanchester & Beverly Nichols, among others…
Of course, the 1920s brought many new things and attitudes, including the first birth control clinic in London, which opened in March 1921. This had followed the publication, in 1918, of a book on the subject entitled, Married Love, written by MARIE STOPES. It became a best seller and in its sixth printing within a fortnight. One could say, it was the '50 Shades of Grey' of its day!
Prog. 1 Music Playlist (not necessarily in order):
• Futuristic Rhythm by Irving Mills & His Band
• One Little One More by Tom Clare, recorded in 1924 – "a wonderful song about addiction" says Barry.
• Another Day Wasted Away sung by Annette Hanshaw, recorded in 1927
• Gentlemen Prefer Blondes sung by Joyce Barbour, recorded in 1926 and inspired by the publication of Anita Loose's literary smash-hit of the same name.
• The Younger Generation - sung Al Bowlly (written by Noel Coward)
• They Sang God Save the King - Florrie Forde
• The Charleston - Savoy Hotel Orpheans
• Take Me to the Land of Jazz - Billy Murray
• Harlem Twist - Duke Ellington
• I Wanna Go Places and Do Things - Jack Hylton
• My Canary Has Circles Under His Eyes - Elsie Carlise
• World Weary - Noel Coward
• The Party's Over Now - Noel Coward
• Don't Tell My Mother I'm Living in Sin sung by Elsa Lanchester
Barry says:
"One of my favourite Bright Young Things is Elsa Lanchester. She set up, The Cave of Harmony nightclub, in London, frequented by Evelyn Waugh, in which plays and cabaret turns were performed. Elsa Lanchester recorded a fabulous song, which for me, sums up the mood of the era better than any other record. The title? 'Don't Tell My Mother I'm Living in Sin'". And that song had a kind of autobiographical quality for Elsa, as before Elsa was born, her mother was forced into an asylum by her own father and brothers, so upset were they at the prospect of their daughter and sister living in sin. The case made front page news at the end of the 1800s. Eventually, after a court case and support from a local M.P., Elsa's mother was declared sane and returned home to continue living in sin with her beloved, she never got married and gave birth to two children, one of whom was Elsa.
Last on
Broadcasts