Main content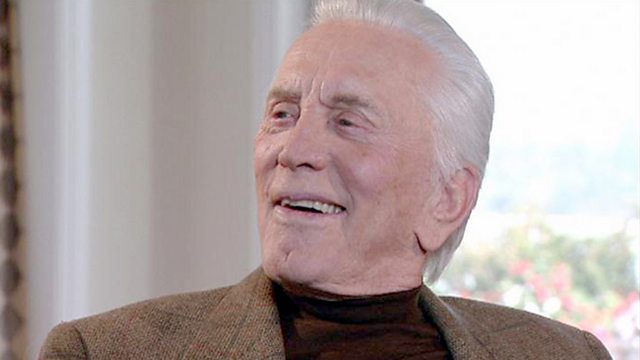 Kirk Douglas, Terry Hands CBE, Hazel Murphy, Seamus Mallon
Julian Worricker on the theatre director Terry Hands; the wine marketer Hazel Murphy; the Northern Ireland politician Seamus Mallon; and the Hollywood icon, actor Kirk Douglas.
Pictured: Kirk Douglas
Julian Worricker on:
Terry Hands, long serving artistic director of the RSC, who co-founded the Liverpool Everyman theatre and revived the Clwyd theatre Cymru...
The wine marketer, Hazel Murphy, who's credited with spearheading Australia's wine invasion of Europe....
The nationalist Northern Ireland politician, Seamus Mallon, whose negotiating skills helped secure the Good Friday Agreement...
And the actor Kirk Douglas, whose career in film spanned seven decades, and involved memorable portrayals of all-action if not always likeable characters...
Interviewed guest: Paul Allen
Interviewed guest: Jancis Robinson OBE
Interviewed guest: Barry Turley
Producer: Neil George
Archive clips from: Desert Island Discs, Radio 4 08/08/1981; Australian Table Wines, Monty Python's Previous Record, Charisma 1973; BBC News, 03/02/2000; 1800 News, Radio 4 14/10/1999; The Vikings, directed by Richard Fleischer, Brynaprod S.A./ Bavaria Film/ Curtleigh Productions 1958; Kirk Douglas: I am Issur Danielovitch, Eyes On Cinema 21/10/2016; Parkinson, BBC One 16/04/1979; The Strange Love of Martha Ivers, directed by Lewis Milestone, Hal Wallis Productions 1946; Lust for Life, directed by Vincente Minnelli, MGM 1956; Woman's Hour, Radio 4 26/09/1988; The Oscars, ABC 1996.
Terry Hands CBE
Born 9 January 1941; died 4 February 2020, aged 79.
Last Word spoke to writer and theatre critic Paul Allen.
Hazel Murphy
Born 19 February 1948; died 31 December 2019, aged 71.
Last Word spoke to wine critic Jancis Robinson OBE.
Seamus Mallon
Born 17 August 1936; died 24 January 2020, aged 83.
Last word spoke to Barry Turley, former BBC Northern Ireland reporter and former Director of Communications for the SDLP.
Kirk Douglas
Born 9 December 1916; died 5 February 2020, aged 103.