Main content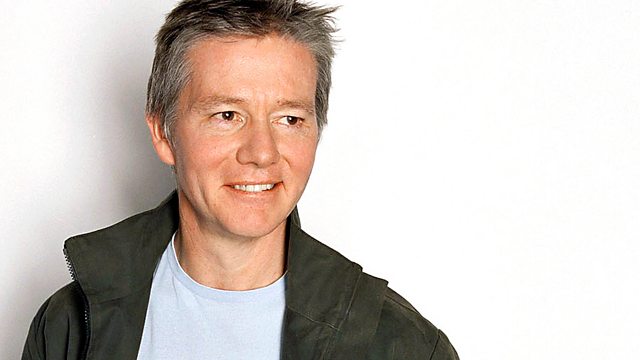 Programme 4, 2020
The fiendish cryptic quiz pits Scotland against Northern Ireland, with Tom Sutcliffe in the questionmaster's chair
(4/12)
Facing Tom Sutcliffe's convoluted puzzles in today's contest are Val McDermid and Alan McCredie of Scotland, versus Freya McClements and Paddy Duffy of Northern Ireland. They have no idea what subjects may come up in the course of the quiz, but a knowledge of South American literature, folk music, television thrillers and units of currency in obscure countries may prove very helpful to them today.
Tom will be assigning points depending on the number of helpful hints he has to give them in order to arrive at the answers. As usual, there'll be a representative sample of the best question ideas received recently from Round Britain Quiz listeners.
Producer: Paul Bajoria
How they stand
The Round Britain Quiz league table for the current series, going into today's contest, is as follows.
1  North of England    Played 1  Won 1  Drawn 0  Lost 0  Total points 20
2  Wales     P1  W1  D0  L0  Total points 19
3= Northern Ireland   P1  W0  D1  L0  Total points 19
3= South of England    P1  W0  D1  L0  Total points 19
5  Midlands   P1  W0  D0  L1  Total points 19
6  Scotland   P1  W0  D0  L1  Total points 16
Last week's teaser question
Tom asked:
For what indefinite reason might you assign a large quantity, gather a team for a sea voyage, confront what you are charged, and bear witness to something challenging?
'Indefinite' was a clue to the fact that these are phrases involving indefinite articles. In each case the verb is a homophone of the noun with its indefinite article.
So to assign a large quantity is to 'allot a lot'
To gather a team for a sea voyage would be to 'accrue a crew'
If you confront what you are charged you would 'accost a cost'
To bear witness to something challenging might be to 'attest a test'.
Well done if you worked that out!
Questions in this programme
Q1  Which careless herder would be needed to make a mother dance, make you chew on a stew, conserve a love of Scottish Hearts, and collide violently with a Sly man?
Q2 (from Huw Jones)  Explain how a pianist, helped by two partners, might become a South American author and join his Parliament, but, on getting rid of an opponent, could be found in court?
Q3 (Music)  Which of these is the odd one out?
Q4  Explain why the mass slaughter of cattle, the awarding of Kitemarks, and the annual changing of the clocks, have their origins in arrant nonsense?
Q5  How did Shakespeare's favourite clown make his way from London to Norwich; how might the innkeeper at the other end have measured out his refreshment; and what dishonest dealing might have been involved?
Q6 (Music)  If the skimpiest one bent vagrants over with shame, while a fabled one proved uncomfortable despite its padding, could you find rest in Tracey's £2.5 million example?
Q7 (from Bob Salmon)  Why might Kojak, fermented pears, and a member of the genus corvus that belongs to me, all give me scope for superhuman vision?
Q8 (from Daniel Tunkel)  If Brazil's is no illusion, Mozambique's amounts to climate change, Armenia's might be taken for whisky and Costa Rica's is punctuated, what kind of craving is particular to Japan?
This week's teaser question
If a musical comedian meets a Star Wars actress wearing a knitted sweater, and they go to a restaurant where their meal costs more than 39 pounds but less than 50, what kind of fish do they order?
Don't write to us: there are no prizes, but we'll give you the solution at the beginning of the next edition.