Main content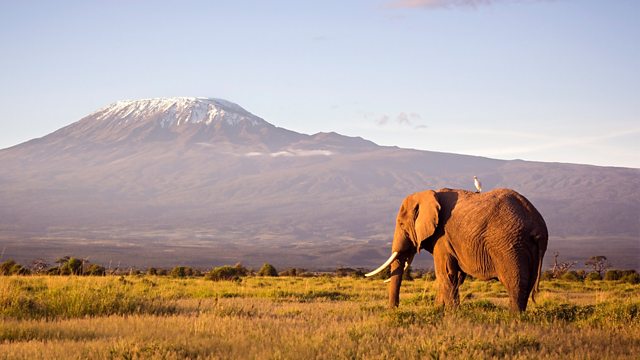 Red Button Reprieve and Working Overseas When You're Blind
Peter White hears about the battle to save the BBC's Red Button text service. And the opportunities to volunteer for work abroad if you're blind.
The BBC is pausing its plan to shut down the Red Button text service after protests from blind users. But can it be saved long term?
How safe are blind children as they go online?
And the opportunities on offer for blind 18-35 year olds to volunteer to work abroad.
PRESENTER: Peter White
PRODUCER: Mike Young
Youth Volunteering (ICS)
International Citizen Service (ICS) is a UK Government funded programme providing volunteer placements to 18-35 year olds. A link to their website is
HERE.
Transcript: Red Button Reprieve And Working Overseas When You're Blind
Downloaded from www.bbc.co.uk/radio4
THE ATTACHED TRANSCRIPT WAS TYPED FROM A RECORDING AND NOT COPIED FROM AN ORIGINAL SCRIPT.  BECAUSE OF THE RISK OF MISHEARING AND THE DIFFICULTY IN SOME CASES OF IDENTIFYING INDIVIDUAL SPEAKERS, THE BBC CANNOT VOUCH FOR ITS COMPLETE ACCURACY.
TX:  04.02.20  2040-2100
PRESENTER:          PETER WHITE
PRODUCER:            MIKE YOUNG
White
Good evening.  Tonight, the BBC's red button text service gets a stay of execution after blind people protest but how long can it survive?  And it's a definite green light for young blind people wanting to lend a hand in developing countries.
Clip
A lot of them work in health, you don't have to be a doctor; they work at education, you don't have to be a teacher; they work in livelihoods, you don't have to be some sort of entrepreneurial guru.  You just have to be yourself.
White
We'll also hear tonight where to go for help if you're worried about what your visually impaired children are getting up to online.
But first, the BBC's red button text service was due to be phased out at the end of last week.  It's been around for 20 years as a successor to Ceefax and described as vital by some blind people as a source of news, sport, weather etc., when going online might be a problem.  Last year the BBC said usage of the red button had slumped, as more and more of us accessed content via smartphones or tablets, rather than through the TV.  But there's been a reprieve from a shutdown after protests culminating in a petition organised by the National Federation of the Blind.  That petition was handed in to the BBC and Downing Street a few days ago.  It was organised by Victor Jackson, who got the backing of more than 160 charities and organisations representing a broad range of disabled and older people.  From his home in Leeds Victor demonstrated to me how he uses the red button service.
Jackson
I want to look at the sports results for Leeds.  I press the red button and it shows at the top 102, for all the different types of things that I want.  And I'm going to press 300.  So, then I go to the OK button and it will bring up all the different sports – football, cricket – all the way down to rugby and then the lesser sports.  I'm going to football one, press down to – right it's on tables now.  It's on premier now, so I want to go down one…
White
Because you're a Leeds United fan yeah?
Jackson
Yes.  All I'm interested in is Leeds United, who's above and who's below.
White
So, why is the red button particularly good for you?
Jackson
It's because I, personally, at 77 do not want to use a computer.  People on benefits, first of all, can't afford computers, they're expensive, you have to have a service provider, which you have to pay for.  At my age I can do without all the scams that come through.
White
And what do you use it for mainly?
Jackson
Ordinary news in Great Britain, you have to buy a newspaper otherwise and I can't read a newspaper.  As I've said, the sports results occasionally.  I use it for the politics, I use it for the science, I use it for the business news.
White
So, when the BBC says to you – Yes, but the numbers of people using this is going down very fast and it's still expensive to run – what do you say?
Jackson
This is an essential service for blind and deaf people, in particular, who have to use sign language just to watch the ordinary news and every day they have a sign language girl or man but this is not adequate enough for them, so they have to be able to read it on a screen.  This is a vital thing for a lot of people.  I know lots of sighted people who use it as well.
White
That was Victor Jackson, speaking to me from his home in Leeds.
Well the former chair of the Culture, Media and Sport Select Committee is Conservative MP Damian Collins.  He wrote to the BBC's Director General – Tony Hall – last week, calling for a pause in the closing down of the red button text service.
Collins
What I want to see is the equalities assessment that the BBC has done to understand what the impact of losing this service would be because the charities and campaigners I spoke to said they've never seen it, indeed I've asked to see that as well as part of my letter to the Director General, Tony Hall.  And I want to take up his offer to meet with him, with campaigners to look at that assessment, to discuss what the impact would be.  Then we'll be in a position to know just how many people this is going to affect, people who, at the moment, do not access the BBC through any other service.
White
What's your suspicion?
Collins
My suspicion is that it's not been done and that's why the BBC's agreed to pause this because they need to do a proper detailed assessment of what the impact would be.  And I think what the impact will show is there are still a very significant minority of people that rely on that service and without it they wouldn't be able to access the BBC.
White
Last week, the BBC announced 450 job losses as part of £80 million of savings and we know of other problems that the BBC is facing as far as finance is concerned.  When push comes to shove, BBC's got to work out what services to fund and what has to go and that problem isn't going to go away is it?
Collins
But I don't think what they should be doing is making decisions which means some people, rather than just losing some services that they like, effectively lose access to the BBC altogether.  There are some people that rely on the red button function to be able to access what the BBC provides and I think we need to take that into account and accept that there will be a period of time where there are still a very large number of people in this country that don't use the internet and rely on services like the red button to have access to the BBC.  The BBC gets three and half billion pounds a year from the licence fee, I'm sure it can find enough money to run the red button.
White
You aren't any longer chair of the Culture, Sport and Media Committee, are you going to stay with this issue?
Collins
Absolutely, I mean I wrote to Tony Hall only a short time ago, he's offered that meeting to me, he's subsequently written to me since the election for the chair of the committee saying that he wants to remain engaged on the issues that I'm engaging with the BBC on and that's certainly my attention.
White
So, what would a better resolution be?
Collins
Well, I think what we need to do is understand exactly how many people access the service at the moment, work with the charities that have raised this issue to see how can proper mitigation be put in place and if it can't then I think we should ensure that some of these vital services are maintained.
White
Well, we did ask the BBC about that equality assessment that Damian Collins mentioned there.  We weren't offered a specific answer but the Director General, Lord Hall, has said that he's heard the concern that the closure of the red button text service could negatively affect elderly people and people with disabilities.  He says: "These are issues which I feel deserve to be explored in more depth.  So, we've decided to suspend its closure.  A fresh decision will be made in the spring."
Now when it comes to the youngest generation of visually impaired people, knowing their way around the web often comes naturally, they've been brought up with it.  But that also comes with its own dangers.  Look UK speaks for blind and partially sighted children and their families.  It's planning a series of online seminars, early next week, for parents and youngsters about how to stay safe on the internet.  Charlotte Carson is putting these together.
Carson
On Tuesday, which is actually safer internet day, we're running two separate workshops online.  One aimed at young visually impaired people aged 13-15 and that's how to be safe and savvy online.  And the second one is aimed at parents and that's parents of visually impaired children and young people encouraging and empowering them to keep their children safe online. 
White
Just to focus on one group this isn't for but you are, yourself, a visually impaired mum of two young sighted daughters, how do you make sure they're safe when they surf?
Carson
Well, it's a bit of minefield and actually this has become a real issue for me recently because my eldest daughter is nine and my youngest daughter is seven.  And in the early years of their lives I tried to keep them away from technology but inevitably they want it.  And we actually bought my eldest daughter a laptop for Christmas.  But I'm filled with fear – where is she going, what is she doing.  When she's on lots of games it's completely silent.  When she's on You Tube, I can hear what people are talking about but then it goes quiet and what's she looking at.
White
So, are you going to have to go on a seminar yourself?
Carson
I am, I need to learn definitely and I've got no assistive technology on that laptop, so, I can't go and spy on her and see what she's been up to.  It's got me thinking and it's got me thinking about how I parent.  Do I want to spy on her and restrict and kind of be a bit of an internet police or do I want to find out what my daughter thinks, do I want to learn about what she's looking at?  And I think that's what we are trying to do in these workshops.  So, we're working with an organisation called Wise Kids and Sangeet Bhullar of that is going to be leading the workshop and she's going to be helping us talk about all of these issues.
White
And of course, as you say, the focus of these seminars online is actually on helping and protecting visually impaired children rather than blind parents like you.  So, what do you think the main danger for them is?
Carson
All of those risks actually that affect every single child affect blind and visually impaired children but there are, I think, a few added challenges that we need to talk about.  And that's about the fact that visually impaired children are exploring the world online now in a way that actually in many forms of life they can be excluded from.  So, for instance, social opportunities.  If young visually impaired people aren't going out and accessing a life offline through going to local Brownies or sports or all the other things that children do, and they are online a lot, which they are because online has opened up the world for visually impaired people, then these are things that parents need to be talking about with their children – where are they going, who are they talking to and what are they doing.
White
That's Charlotte Carson of Look UK.  And in a few weeks, we'll hopefully be hearing from some of those who took part in these so-called Webinars.  You can find out more details on Look UK's website, there's a link to that on this programme's page on our own In Touch site.
Thanks for your responses to last week's programme, we do read every email you send us.  Mark Coleman, for example, he's from Spennymoor in County Durham, heard our interview with Melissa Reid, the champion surfer who's visually impaired.  Mark says: "I tried surfing myself in Cornwall just over a year ago.  The thing which really appeals is that it's pretty much indistinguishable from how a sighted person would do it.  All I needed was someone in the water telling me when to dodge or catch a wave.  No special equipment, no bells attached to the waves.  It's a sport I intend to continue for exactly that reason."
Now one of my own disappointments when I was trying to sort what to do with my life was being turned down by VSO or Voluntary Service Overseas.  In a nutshell, their message to me was – VSO's designed to offer help to people in developing countries rather than solve your problems.
Well that was back in the late '60s and it seems times have rather changed.  The government now funds something called International Citizens Service or ICS.  This offers three-month placements abroad.  And 12% of their volunteers have disabilities and they're keen to encourage visually impaired people to come forward.  People like Mahomed Khatri from Leicester.  Back in 2015 he found himself in Zambia offering advice to businesses.  I asked Mahomed if a trip like that was something he ever anticipated when he first lost his sight as a teenager.
Khatri
When you lose your sight, with it you lose a lot of your dreams and one of those dreams is travelling.  My friends are taking gap years and going all over the world and doing all these weird and wonderful things and thinking that I'd be able to work and contribute to the world and actually go and live in another country whilst being blind is a real far-fetched dream.
White
So, how did you find out about the International Citizens Service scheme, which was how you got into this?
Khatri
I actually got invited to one of the focus groups that they were running in London and that focus group was getting different people from different backgrounds together to ask them if they'd heard of ICS, if they'd heard of VSO, if they'd heard of the programme and I was sitting there thinking – what on earth is this, why would people send people away around the world for free, it doesn't make any sense.  So, my curiosity kicked in, I got home, I googled it, realised it was a government funded programme and then I held on to that application for six months.  I was actually scared and quite fearful of being rejected and not sure if I'd be able to do it.  And a day came when I was just like – I might as well apply.  Looked at the application form, it took me 20 minutes.  It takes a lot of courage to put yourself forward for something like that and I think it's very nature to have fears when you are blind, when you have a disability, when you have any sort of condition which debilitates you.
White
Just tell me what your first impressions where when you got to Zambia.
Khatri
It was just excitement because it's something I did not think I would be able to do; I was spending time with people I didn't know but I was very, very quickly getting to know.  And I didn't have my dog with me.  I wasn't using my cane there because it isn't really effective using it in a place you don't know and just relying on people to guide me and people are very, very happy to support and assist.  In the beginning it's a real gentle introduction to the country, the culture and also the family that's going to be looking after you and who you're going to be staying with.  The ICS programme isn't your typical volunteering stint going abroad where you're going to be saving the sea turtles from extinction or building wells or helping construct a new school.  No, no, no, it's all about human capital, it's all about sharing our knowledge and expertise with local people there so that we can have an impact going forward.
White
So, what were you doing, what was your expertise, what did you end up doing?
Khatri
I was working with local businesses to upskill them and to give them some of the Western nouse or just a different way of thinking to try and help them develop their businesses and improve their profitability prospects going forward and their livelihood prospects in the long run.  I'm not a business expert but that doesn't matter and it's the same with a lot of the ICS projects, a lot of them work in health, you don't have to be a doctor; they work in education, you don't have to be a teacher; they work in livelihoods, you don't have to be some sort of entrepreneurial guru.  You just have to be yourself and use your skills and the programme is tailored to help you utilise what you do have.
White
What was their attitude to you, you know, one of the fears is that somebody comes in from Britain telling them what to do, I just wonder how they reacted to you?
Khatri
So, reacting to me and reacting to others I think are two different questions.  Reacting to me, I think there was just a sense of astonishment that someone blind can come and do this, someone with a disability has the guts and the strength to jump on a plane and go and work in another country for three months when, in reality, a lot of people with disabilities in countries like Zambia, India, Pakistan, etc., don't have the support from their networks, from schooling, in health, to build the confidence to go and ever do those sort of things.  When you talk about others, I had a partnership with my local counterpart who was a Zambian male called Museba [phon.], so, when you're working in communities, when you're working within businesses, when you're working with different leaders you have someone that's local there as well, so it really does help break down those barriers and it doesn't seem like you're just jumping in from England, coming with all your money and just trying to solve their problems because that isn't the case and that's not something we want to portray either.
White
Now you now support volunteers ahead of their trips abroad, what are the practical lessons perhaps you learned from your own travels that you pass on to them?
Khatri
The most important thing is just to enjoy yourself and to be yourself.  This is a fantastic opportunity for you to develop, for you to go away for three months but actually grow three years when you come back.
White
Were you actually working specifically with other people with disabilities or did you just work with all kinds of people?
Khatri
No, I was the only person with a disability on my group, so, I was working with people who are fully able, fully bodied and even the businesses were the same.  My desire is to help people with disabilities now.  I jump on the opportunity to go and work with people who are blind, work with people who have difficulties because that's my passion and my desire.  But, no, we don't want to shoehorn you into something just because you're blind, that's like saying – oh, I'm black, so you go help black people, you're white, so you go help white people – that just isn't the way the world works.
White
When you were very newly blind what did you think were the kind of limitations you were facing?
Khatri
Absolutely everything.  It's hard to just get yourself out of bed and know that you can accomplish day-to-day activities, let alone go and travel or have a family or get a job, go to university, complete education, even getting around and walking.  So, it really is all encompassing when you do lose your sight and it does take a lot of strength and a lot of courage and support from people around you to make you realise that actually everything is possible, it might take you longer and it will be harder work but it is ultimately possible.
White
That's Mahomed Khatri.
I should add that International Citizens Service is available for 18 to 35-year olds.  We've put up a link to the VSO's website on this programme's page, on our own website and if you do go to bbc.co.uk/intouch you can also download tonight's programme.  You can email intouch@bbc.co.uk with your views.  If you prefer the phone you can leave messages with your comments on 0161 8361338. 
For now, from me, Peter White, producer Mike Young and the team, goodbye.