Main content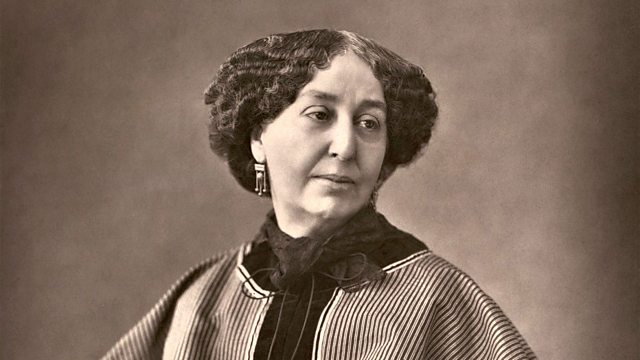 George Sand
Melvyn Bragg and guests discuss the work and life of Amantine Lucile Aurore Dupin who in C19th France wrote many extremely successful novels, under the name George Sand
Melvyn Bragg and guests discuss the works and life of one of the most popular writers in Europe in C19th, Amantine Lucile Aurore Dupin (1804-1876) who wrote under the name George Sand. When she wrote her first novel under that name, she referred to herself as a man. This was in Indiana (1832), which had the main character breaking away from her unhappy marriage. It made an immediate impact as it overturned the social conventions of the time and it drew on her own early marriage to an older man, Casimir Dudevant. Once Sand's identity was widely known, her works became extremely popular in French and in translation, particularly her rural novels, outselling Hugo and Balzac in Britain, perhaps buoyed by an interest in her personal life, as well as by her ideas on the rights and education of women and strength of her writing.
With
Belinda Jack
Fellow and Tutor in French at Christ Church, University of Oxford
Angela Ryan
Senior Lecturer in French at University College Cork
And
Nigel Harkness
Pro-Vice-Chancellor for Humanities and Social Sciences and Professor of French at Newcastle University
Producer: Simon Tillotson
Last on
LINKS AND FURTHER READING
Belinda Jack at the University of Oxford
Angela Ryan at University College Cork
Nigel Harkness at Newcastle University
'Devils v. Dummies' by Tim Parks - London Review of Books, May 2019
READING LIST:
Béatrice Didier, George Sand écrivain: Un grand fleuve d'Amérique (Presses Universitaires de France, 1998)
Nigel Harkness, Men of Their Words: The Poetics of Masculinity in George Sand's Fiction (Legenda, 2007)
Janet Hiddleston, George Sand and Autobiography (Legenda, 1999)
Belinda Jack, George Sand: A Woman's Life Writ Large (Chatto & Windus, 1999)
Isabelle Hoog Naginski, George Sand: Writing for her Life (Rutgers University Press, 1991)
Martine Reid (trans. Gretchen van Slyke), George Sand (Pennsylvania State University Press, 2018)
George Sand (trans. W. Kirkbride), A Winter in Majorca (Ediciones de Ayer, 1970)
George Sand (trans. Sylvia Raphael), Indiana (Oxford University Press, 2008)
George Sand (ed. Angela Ryan), Un hiver à Majorque (Champion, 2013 – in French)
George Sand (trans. Gretchen van Slyke), La Petite Fadette (Pennsylvania State University Press, 2017)
George Sand, Story of My Life: The Autobiography of George Sand (State University of New York Press, 1991)
Naomi Schor, George Sand and Idealism (Columbia University Press, 1993)
Broadcasts

Featured in...
Browse the 19th Century era within the In Our Time archive.

Popular culture, poetry, music and visual arts and the roles they play in our society.