Main content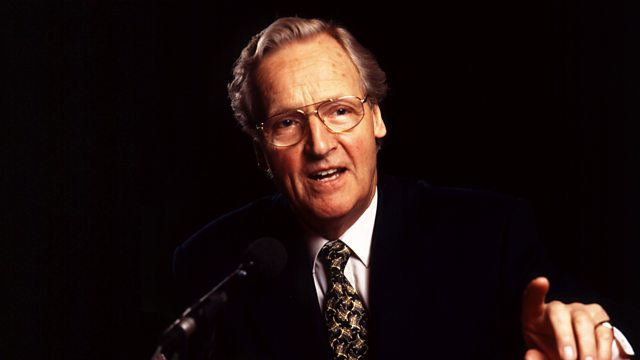 Nicholas Parsons CBE, Mary Craig, Lord Maclennan of Rogart, Kobe Bryant
Matthew Bannister on broadcaster Nicholas Parsons, writer Mary Craig, politician Lord Maclennan, basketballl star Kobe Bryant
Pictured: Nicholas Parsons
Matthew Bannister on The Just A Minute host, TV presenter and actor Nicholas Parsons. Sheila Hancock and Tony Hawks pay tribute - in just a minute!
Mary Craig who wrote the best selling book "Blessings" after struggling to care for her severely disabled son.
Lord Maclennan of Rogart, formerly the MP for Caithness and Sutherland, who negotiated the merger between the SDP and the Liberal Party.
Kobe Bryant, the LA Lakers basketball star, who gave himself the nickname The Black Mamba.
Interviewed guest: Sheila Hancock
Interviewed guest: Matt Stronge
Interviewed guest: Tony Hawkes
Interviewed guest: Mark Craig
Interviewed guest: Brain Taylor
Interviewed guest: Michael Carlson
Producer: Neil George
Archive clips from: Desert Island Discs, BBC Radio 4, 04/11/2007; Don't Raise The Bridge, Lower The River, Columbia Pictures Industries,1967; The Arthur Haynes Show, ATV, 1957-65; Just a Minute Series 64 Ep. 2, BBC Radio 4, 13/08/2012; Just a Minute Series 64 Ep. 3, BBC Radio 4, 20/08/2012; Sale of The Century, Anglia TV, 08/01/1972; 50 years of Just a Minute: Nicholas Parsons in Conversation with Paul Merton, Radio 4, 01/01/2018; Woman's Hour Radio 4, 1976; The World at One, BBC Radio 4, 31/01/1988; Dear Basketball, Believe Entertainment Group Kobe Inc, 2017; LA Lakers and Minnesota Timberwolves, BBC 5 Live Extra, 04/10/2010; Toronto Raptors v LA Lakers, Kobe Bryant 81 Points Game Highlights, 2006; USA VS CHINA at the Beijing Olympics, X9Highlights, 2008; Newsbeat, BBC Radio 1, 06/08/2003; 10 o'clock news, BBC One, 05/08/2003;
Nicholas Parsons CBE
Born 10 October 1923; died 28 January 2020, aged 96.
Last Word spoke to friend and actor Sheila Hancock, comedy producer Matt Stronge and 'Just a Minute' panellist Tony Hawkes.
Mary Craig
Born 02 July 1928; died 03 December 2019, aged 91.

Last Word spoke to her son Mark Craig.
Lord Maclennan of Rogart (Baron Robert Maclennan)
Born 26 June 1936; died 18 January 2020, aged 83.

Last word spoke to political editor for BBC Scotland Brian Taylor.
Kobe Bryant
Born 23 April 1978; died 26 January 2020, aged 41.

Last Word spoke to sport commentator Michael Carlson.