Main content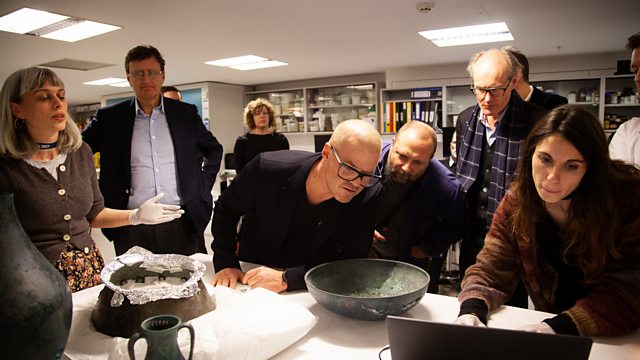 The Physicist In the Kitchen
Can understanding a little chemistry and physics help us cook better? Dan Saladino asks Heston Blumenthal and Raymond Blanc.
Photograph: Emily Jarrett Photography
Can a grounding in science help us become better cooks?
Dan Saladino speaks with chefs Heston Blumenthal, Raymond Blanc, food writers Harold McGee and Niki Segnit to find out what a little chemistry and physics can do for our kitchen skills. Each of these chefs and cooks have been influenced by a lecture delivered to the Royal Institution in 1969 delivered by an Oxford professor of physics, a Hungarian called Nicholas Kurti.
In his talk, titled, "A Physicist In The Kitchen," Kurti came up with the memorable quote, "I think it is a sad reflection on our civilisation that while we can and do measure the temperature in the atmosphere of Venus, we do not know what goes on inside our soufflés." He believed that food and cooking were such important features of human life they deserved greater attention from science, and that likewise, that cooks should better understand the science that unfolds when we mix, heat and chill ingredients.
The lecture and the quote inspired chef Raymond Blanc, who in the 1990s made a television series with Nicholas Kurti, and whose own cooking was transformed by working with the physicist. Heston Blumenthal was also inspired. He was among a group of chefs who attended a series of food and science workshops held in Sicily and founded by Kurti. It set him on a voyage of scientific discovery and some of the most experimental cooking seen and tasted in the UK. Dan caught up with Heston as he was researching a new menu for the restaurant Dinner by Heston Blumenthal, at an exhibition at the Ashmolean. New scientific techniques are revealing how people in the ancient city were eating and cooking before Vesuvius erupted. From this research the Dinner team have created a menu featuring ancient varieties of spelt flour served with butter, and crafted to resemble lava rock.
As well as the role of science in creative restaurant cooking, physics and chemistry have been at the heart of the work of food writers Harold McGee and Niki Segnit (author of The Flavour Thesaurus and Lateral Cooking). They explain how learning about copper ions and flavour molecule can transform a dish.
To explain who Nicholas Kurti was, Professor of Physics, and Radio 4 presenter Jim Al-Khalili sheds light on Kurti's career and shares his own thoughts on the role of science in the future of our food.
Presented by Dan Saladino.
Photograph: Emily Jarrett Photography
Last on
Broadcasts