Main content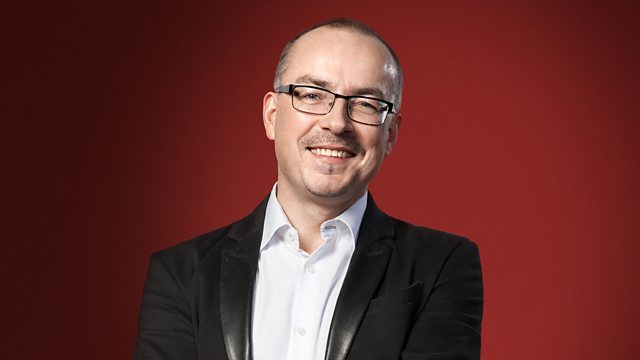 Andrew McGregor with Iain Burnside and Natasha Loges
The best new classical releases, and in Building a Library, Iain Burnside compares recordings of Chopin's four scherzi - and picks a favourite. Plus a round-up of new vocal discs.
9.30
Building a Library: Iain Burnside compares recordings of Chopin's four scherzi for piano, Opuses 20, 31, 39 and 54 - and picks a favourite.
Scherzo No 1 in B minor Op 20
Scherzo No 2 in B flat minor Op 31
Scherzo No 3 in C sharp minor Op 39
Scherzo No 4 in E major Op 54
Chopin's four scherzi, much loved and oft recorded by the world's greatest pianists, are a feat of technique, lyricism and musical story-telling. Each is a mini drama and they were written for concert performance rather than the salon. The scherzi also span Chopin's own compositional journey. Whilst the first scherzo is defiant and assertive, demonstrating the youthful energy of the composer, the fourth, written towards the end of his life, is more elusive. Together with the ballades, Chopin's four scherzi stand supreme amongst his entire output for solo piano.
10.50
Natasha Loges reviews the newest releases of Lieder and songs.
11.25
Andrew chooses an outstanding new release as his Recording of the Week.
Record Review
9.00am
Vienna Philharmonic: New Year's Concert 2020
Vienna Philharmonic
Andris Nelsons (conductor/trumpet)
Sony 19439702362 (2 CDs)
https://www.sonyclassical.com/news/wiener-philharmoniker-andris-nelsons-new-year-s-concert-2020
Bach Bartók
Julien Libeer (piano)
Harmonia Mundi HMM902651
http://www.harmoniamundi.com/#!/albums/2580
Charpentier: Orphée aux enfers and La Descente D'orphée Aux Enfers
Déborah Cachet (Eurydice, soprano)
Reinoud Van Mechelen (Orphée, tenor)
Zsuzsi Tóth (Daphné, soprano)
Stefanie True (Proserpine, soprano)
Vox Luminis
A Nocte Temporis
Lionel Meunier (conductor)
Alpha ALPHA566
https://outhere-music.com/en/albums/orphee-aux-enfers-alpha566
Young Composers Scheme: music by Harry Baker, Lillie Harris, Shruthi Rajasekar and Joanna Ward
National Youth Choirs of Great Britain
NYCGB Fellowship Octet
Ben Parry (conductor, choirs)
NMC NMCDL3038 (download only)
https://www.nmcrec.co.uk/recording/nycgb-young-composers-scheme-2019
Complices: music by Kreisler, Popper, Haydn, Brahms, Chopin etc.
Jean-Guihen Queyras (cello)
Alexandre Tharaud (piano)
Harmonia Mundi HMM902274
http://www.harmoniamundi.com/#!/albums/2576
9.30am – Building a Library – Iain Burnside on the four Chopin Scherzi: Op.20, Op.31, Op.39, Op.54
Composer: Frédéric Chopin
Reviewer: Iain Burnside
Recommended Recording:


Sviatoslav Richter (July 1977, Munich)
Alto ALC1159 or Olympia MKM53 (download only)
Other Recommended Recording(s):
Emanuel Ax
Sony 88985465042 (6 CDs or download)
Stephen Hough
Hyperion CDA67456
10.15am – New Releases
Swing: a Benny Goodman Story – music by Prima, Copland, Fischer, Bernstein etc.
Pierre Génisson (clarinet)
BBC Concert Orchestra
Keith Lockhart (conductor)
Aparté AP218
https://www.apartemusic.com/albums/swing-a-benny-goodman-story/?lang=en
Philharmonia Orchestra - Birth of a Legend
Philharmonia Orchestra
Various conductors including Herbert von Karajan, Otto Klemperer and Guido Cantelli
Warner Classics 9029534951 (24 CDs)
https://www.warnerclassics.com/release/philharmonia-orchestra
J S Bach: The Well-tempered Clavier Book 2
Colin Booth (harpsichord)
Soundboard Records SBCD 219 (2 CDs)
https://www.colinbooth.co.uk/cd-clavier-two.html
Shostakovich: Symphony No. 13 in B flat minor, Op. 113 'Babi Yar'
Alexey Tikhomirov (bass)
Chicago Symphony Orchestra & Chorus
Riccardo Muti (conductor)
CSO Resound CSOR9011901
https://csosoundsandstories.org/cso-resound-release-of-shostakovichs-babi-yar-available-jan-17/
10.45am – New Releases – Natasha Loges reviews new song recital releases
Lines Written During a Sleepless Night – The Russian Connection: songs by Rachmaninov, Sibelius, Grieg, Tchaikovsky, Medtner and Britten
Louise Alder (soprano)
Joseph Middleton (piano)
Chandos CHAN20153
https://www.chandos.net/products/catalogue/CHAN%2020153
Une soirée chez Berlioz: music by Berlioz, Martini, Lélu, Devienne etc.
Stéphanie d'Oustrac (mezzo-soprano)
Thibaut Roussel (guitar)
Bruno Philippe (cello)
Lionel Renoux (horn)
Caroline Lieby (harp)
Tanguy de Williencourt (piano)
Harmonia Mundi HMM902504
http://www.harmoniamundi.com/#!/albums/2569
The Contrast: English Poetry in Song – music by Walton, Vaughan Williams, Bridge, Huw Watkins and Quilter
Carolyn Sampson (soprano)
Joseph Middleton (piano)
BIS BIS2413 (Hybrid SACD)
Clairières: Songs By Lili and Nadia Boulanger
Nicholas Phan (tenor)
Myra Huang (piano)
Avie AV2414
http://www.avie-records.com/releases/clairieres-songs-by-lili-nadia-boulanger/
Elsa Dreisig – Morgen: songs by Strauss, Rachmaninov and Duparc
Elsa Dreisig (soprano)
Jonathan Ware (piano)
Erato 9029531948
https://www.warnerclassics.com/release/morgen
11.15am – Record of the Week
Tchaikovsky & Barber: Violin Concertos
Johan Dalene (violin)
Norrköping Symphony Orchestra
Daniel Blendulf (conductor)
BIS BIS2440 (Hybrid SACD)
https://bis.se/performers/dalene-johan/tchaikovsky-and-barber-violin-concertos