Main content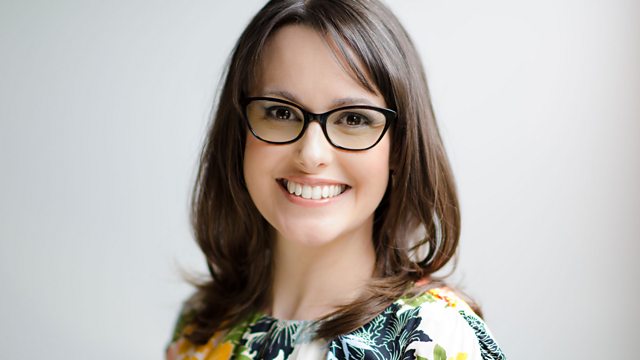 Opera Matine: Porin, by Vatroslav Lisinski
Hannah French presents this week's Opera Matinee: Porin, by the Croatian composer Vatroslav Lisinski.
Today's Opera Matinee:
The historical opera Porin by Croatia's first opera composer, Vatroslav Lisinski. It was performed last year in the Vatroslav Lisinski Concert Hall, Zagreb.
Ljubomir Puškarić, baritone - Kocelin, the leader of the Frankish army and the governor in Croatia
Kristina Kolar, soprano - Irmengarda, his sister
Irena Parlov, mezzo-soprano - Klotilda, her maid
Siniša Galović, tenor, Klodvik - Kocelin's notary
Stjepan Franetović, tenor - Porin, Croatian nobleman
Luciano Batinić, bass, Sveslav - a former Croatian soldier
Evelin Novak, soprano - Zorka, his protégée
Croatian Radio-Television Chorus - Frankish noblemen / Croatian men and women
Nina Cossetto, Chorus director
Croatian Radio-Television Symphony Orchestra
Pavle Dešpalj, conductor
Presented by Hannah French
SYNOPSIS
823-830 AD, southern Croatian lands
Act I
Having defeated the Croats and executed their leader, Ljudevit Posavski, the Franks take control of the country. The governor, Duke Kocelin, calls all the Frankish lords to his court to inform them that the Emperor has conferred on them the lands of the Croatian magnates who have not submitted to Frankish rule. In addition, he outlines his plan to them: he intends to execute all the Croatian noblemen and not just the rebels, in order to seize their estates. To carry this out, he will hold a feast to which he will invite all the Croatian leaders, whom he will then kill. All those present approve the plan of their duke, with the exception of the scribe Klodvig, who tries in vain to dissuade him from this bloodthirsty plan. Sneering at his squeamishness, the Frankish lords vow to Kocelin they will keep his secret and be ready to give him whole-hearted support in the execution of his intention. All of this, however, is overheard from a nearby room by Kocelin's sister Irmengarda. Since she is in love with the most distinguished of the Croatian noblemen, Porin, who once saved her life during a hunt; with the help of her maidservant, Klotilda, she arranges a meeting with him and reveals her brother's plan. He promises her not to respond to the invitation.
Act II
Far off in the hills the Croatian girls are looking for Zorka, daughter of the deceased duke, Ljudevit Posavski. After her father perished, in fear for their lives, she and her grandfather Sveslav moved here together. She has often visited Ljudevit's grave and in her song expressed her sorrow at the loss of both her father and Croatian freedom. The song was occasionally heard by Porin, who went hunting in this region. He fell in love with the pretty unknown and followed her, but she always managed to give him the slip. That morning, however, she was not so adroit: Porin kept after her doggedly as far as her and her grandfather's refuge, a well hidden cave. Just at this time, there is a meeting in it of Sveslav and the Croatian noblemen, who are discussing how and when they will throw off the Frankish yoke. Porin enters the cave and, winning from Sveslav a promise that Zorka will be his wife, gives a fiery speech, placing himself at the head of the fight of the Croats for liberation from the Franks. After all those present have hailed him as future liberator, Zorka gives him the sabre of her father, symbol of battle and victory. She states that she will become his wife if he returns a victor.
Act III      
The Croatian lords did not come to Kocelin's festivity. Porin had warned the of the danger that awaited them at the court of the Frankish duke. Klodvig is suspected of treason, for he had not agreed with Kocelin's plan. And so Kocelin orders him to be taken to prison. Seeing that the innocent scribe will perish unjustly, Irmengarda confesses to her brother that she warned Porin, for she loves him. Kocelin is amazed and indignant. In order to have his revenge on his sister, he informs her that Porin loves Zorka, whom his soldiers have in the meantime arrested and imprisoned together with Sveslav. Irmengarda is in much pain, and her brother enables her to have her revenge on her rival: he gives her his ring, with which she can have the door of the cell opened, and gives her the right to dispose of Zorka' life.
Suddenly, the scene changes: the Croatian mountains resound with the song of victory, for Porin has conquered the Franks. His joy, however, is overshadowed by the knowledge that Zorka and Sveslav have been captured and imprisoned in the Frankish dungeon. Thinking that Kocelin has already had them executed, Porin again calls the Croats to war to avenge the death of his sweetheart and her grandfather.
Act IV
Off stage, a decisive battle is raging between Croats and Franks; on stage Kocelin reports its course, and seeks a horse on which to flee. In the meantime Zorka and Sveslav are languishing in the gloomy dungeon, she sleeping and he watching over her and praying for her rescue. Suddenly, Irmengarda comes into the cell. Zorka awakes and tremulously awaits her fate. Irmengarda offers her liberty if she renounces her love for Porin; otherwise, she will deliver her to the hangman. When she finds out that Zorka is ready to die for her love, Irmengarda, touched by the strength of the other woman's emotions, allows her to go free, together with Sveslav. Renouncing her own love, Iremngarda offers her rival friendship.
Act V
Joy reigns among the Croats, for the enemy has been finally trounced, Kocelin fatally wounded, and the Croats are free again. Irmengarda too has been captured. She wishes to die at the hand of the man she loves and in order to provoke him tells him that she herself has killed Zorka and Sveslav. Porin almost believes her and is about to kill her, but Zorka and Sveslav appear in the nick of time. They recount what happened in the dungeon, and he repents for having almost killed the saviour of these dear beings. At that moment they bring in the wounded Kocelin who, dying, curses his own sister. She cannot stand this; for she has lost the man she loves forever and has at the same time been rejected by her brother. In despair, she pulls the knife out of his belt and kills herself in front of the appalled onlookers. Kocelin forgives his unhappy sister and also dies; the choir, deeply moved, expresses its sympathy.