Main content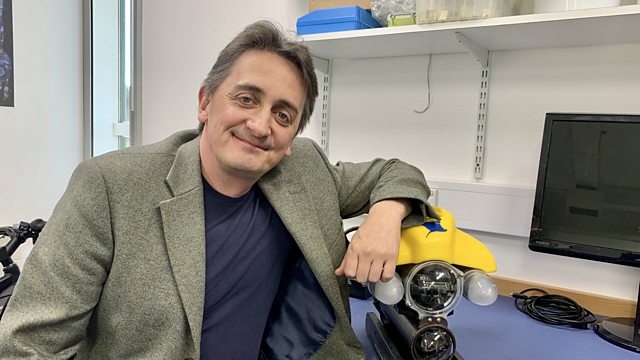 Deep ocean exploration with Bathynaut Dr Jon Copley
In the year of Scotland's coasts and waters we batten down the hatches for a fascinating journey down under the deep ocean with the marine ecologist and explorer Dr Jon Copley.
Pennie Latin joins marine ecologist and deep ocean explorer Dr Jon Copley for a fascinating insight into his extraordinary world. Jon is a 'bathynaut' (someone who has gone deeper than 200 meters under the ocean) who specialises in researching hydrothermal vents deep under the ocean. His watery office is a small acrylic bubble capable of diving to incredible depths which allows him to explore, observe and research the amazing array of life which inhabits the half of our world which is covered by water more than 2 miles deep. In a single drop of sea water there are a million bacteria, and a bath tub of water, says Jon, will give you as many life forms as there are stars in our galaxy! Unfortunately as well as finding new species Jon is also witness to man's impact on the deep ocean environment and finds evidence of human rubbish even thousands of meters under the sea.
So join Jon and Pennie as they dive deep into the subject of oceanography, you'll hear some remarkable stories and discover species which will take your breath away but there's a few thought provoking lessons along the way too.
Last on
Broadcasts