Main content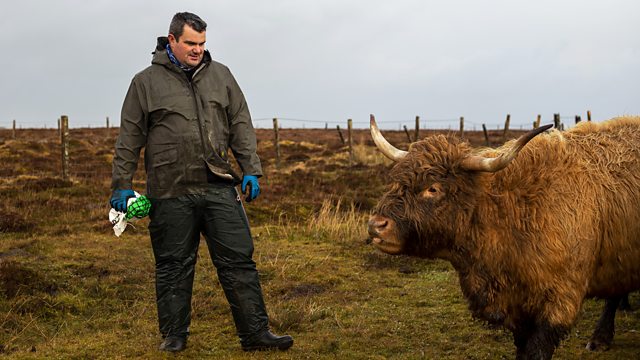 Episode 2
Tha Sweeny ag innse mu mar a tha glanadh a-mach an taigh-chearc a' toirt misneachd dha! Sweeny reveals how he finds moments of inspiration while cleaning out the hen house!
Tha an t-sreath ùr, An Lot/The Croft - mun chroitear Leòdhasach, Sweeny, agus a mhiann gus beò-shlaint' làn-ùine a dhèanamh à croitearachd - a' leantainn.
A bharrachd air an obair làitheil, 's e gu trang a' rùsgadh nan caorach, tha spiorad dèanachail Sweeny cuideachd air bhoil! Bho chionn ghoirid tha barrachd is barrachd de dhaoine air a bhith a' tighinn dha na h-Eileanan an Iar. Na chois tha àrdachadh de shoithichean mòra luchd-turais, le mòran dhe an luchd-tadhail ag iarraidh ùine a chuir seachad air croit, agus tha Sweeny tuilleadh is deònach fàilte chridheil eileanaich a chuir orra le gàire agus gobaireachd!
As dèidh cuairt dhan chroit, tha cothrom ann an uairsin dha Sweeny innse mu na h-annasan ùra clòimhe a tha ri fhaighinn na bhùth a tha air ùr fhosgladh! Cluinnidh sinn cuideachd mun obair croite ris nach biodh dùil a tha a' toirt cothrom dha misneachd fhaighinn son iomairtean ùr air an lot ……..a' glanadh a-mach an taigh-chearc!
The new series following Lewis crofter Sweeny continues as he strives to make a living from crofting full-time. On top of the day to day chores, including getting the sheep sheared, Sweeny puts his entrepeneurial spirit into overdrive!
Recent years have seen more and more tourists visiting the islands. The increase of cruise ships coming in to Stornoway has played its part, with many of the visitors keen to experience life on a Hebridean croft, and Sweeny is more than ready to welcome them with some typical cheeky charm.
After a tour of the croft, he goes in to sales mode, with some novel new wool products for his visitors to check out in his newly opened shop. He also reveals how a somewhat surprising job provides him with moments of inspiration - cleaning out the hen house!
In Gaelic with English subtitles