Main content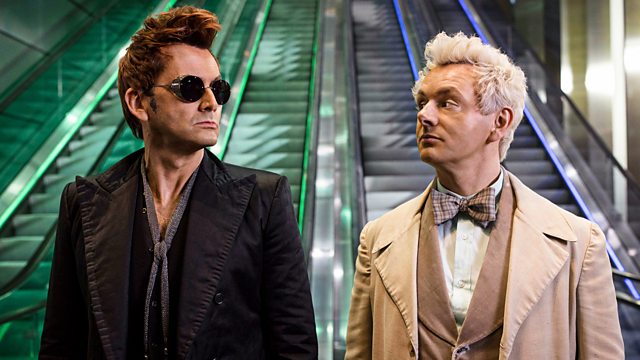 Aziraphale and Crowley, of Heaven and Hell, do their part in raising the Antichrist in a balanced and human way. But, are they focusing efforts in the right direction?
Aziraphale and Crowley, representatives of Heaven and Hell respectively, are enjoying their cosy, comfortable lives here on earth - they have taken a liking to humanity and despite ostensibly representing the polar opposites of good and evil, have become firm friends. Their comfortable existence of sushi restaurants and vintage Chateauneuf du Pap is disrupted when Crowley is summoned by two demons, Hastur and Ligur, and presented with a newborn baby, the son of Satan, the Antichrist. Despite the best efforts of the Chattering Order of St Beryl, an order established solely to ensure the successful swap of the Antichrist with the son of an American diplomat, chaos ensues at their maternity ward.
Following the birth however, Armageddon now has a date - the Antichrist's 11th birthday - when the armies of Heaven and Hell line up against each other and the final judgement will descend upon the human species. Aziraphale and Crowley vow to collaborate to ensure the Antichrist grows up in a way that means he can never decide between Good and Evil. That, they believe, would postpone the end of the world.
They each adopt a role in the Antichrist's life – Aziraphale as saintly, friar-like Gardener, and Crowley, a devilish Nanny. Their endeavour however is in vain, as they discover to their horror at the child's eleventh birthday party, when the Hell Hound expected to reach the Antichrist on this fails to appear. They have got the wrong boy.
In the present day, the Hell Hound has indeed reached its Master - the Antichrist - Adam Young, a charismatic 11-year-old who lives in Lower Tadfield, a small Oxfordshire village. Despite being the son of Satan and the harbinger of the Apocalypse, Adam has lived a perfectly normal life as the son of typical English parents, and as a result has no idea of his true powers, and the terrifying Hell Hound has been created as a lovable pup.
More episodes
Previous
You are at the first episode
Music Played
Timings (where shown) are from the start of the programme in hours and minutes
00:08

Queen

Bohemian Rhapsody

00:18

Queen

It's A Hard Life
Credits
| Role | Contributor |
| --- | --- |
| Aziraphale | Michael Sheen |
| Composer | David Arnold |
| Crowley | David Tennant |
| Director | Douglas Mackinnon |
| Voice of God | Frances McDormand |
| Writer | Neil Gaiman |
| Gabriel | Jon Hamm |
| Arthur Young | Daniel Mays |
| Deirdre Young | Sian Brooke |
| Hastur | Ned Dennehy |
| Ligur | Ariyon Bakare |
| Thaddeus Dowling | Nick Offerman |
| Beelzebub | Anna Maxwell Martin |
| Sister Mary Loquacious | Nina Sosanya |
| Archangel Michael | Doon Mackichan |
| Adam Young | Sam Taylor Buck |
| Eve | Schelaine Bennett |
| Adam | Anthony Kaye |
| Himself | Paul Gambaccini |
| Freddie Mercury | Ben Crowe |
| Sushi Chef | Dai Tabuchi |
| Harriet Dowling | Jill Winternitz |
| George Bush | Alistair Findlay |
| Voice of George Bush | Jim Meskimen |
| Mother Superior | Susan Brown |
| Sister Theresa | Maggie Service |
| Sister Grace | Jasmine Hyde |
| Young Warlock | Rocco Day |
| Disposable Demon | Paul Adeyefa |
| Uriel | Gloria Obianyo |
| Sandalphon | Paul Chahidi |
| Warlock | Samson Marraccino |
| Trixie | Coco Winchester |
| Tarquin | Oscar Farren |
| Himself | Nicholas Parsons |
| Pepper | Amma Ris |
| Brian | Ilan Galkoff |
| Wensleydale | Alfie Taylor |