Main content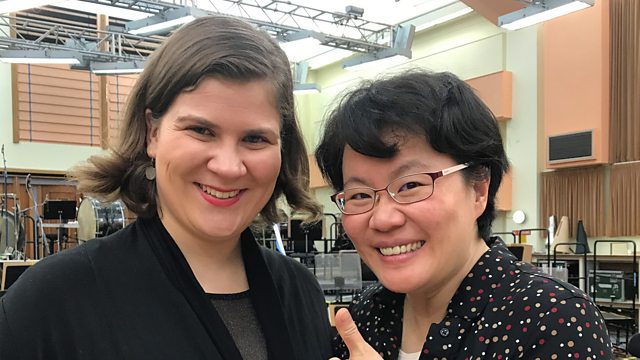 BBC Singers at Maida Vale
Gabriella Teychenné conducts the BBC Singers in music by Aaron Copland and Thea Musgrave. Plus, the BBC Symphony Orchestra plays Mahler, Hindemith, Tchaikovsky and Florence Price.
The BBC Singers are at Maida Vale Studios for a concert of music by just two composers - Aaron Copland and Thea Musgrave. Gabriella Teychenné conducts.
Following that concert, there's a final visit of the week to the 66th International Rostrum of Composers in Argentina, and a piece by the young Argentinian composer Melissa Foss Hyatt - "Hanblecheyapi", written in 2018.
The programme continues with a recording made by violinist Guy Braunstein of one of Tchaikovsky's best-known miniatures for violin and orchestra, followed by a final concert from the BBC Symphony Orchestra at Maida Vale. Mei-Ann Chen conducts arrangements of Florence Price piano pieces, four of Mahler's most heartfelt Lieder with Radio 3 New Generation Artist Ema Nikolovska, plus works by Hindemeith, Malcolm Forsyth and An-Lun Huang.
2pm
Thea Musgrave: For the Time Being: Advent
Aaron Copland: Help Us, O Lord (Four Motets No.1)
Thea Musgrave: Four Madrigals
Aaron Copland: Thou, O Jehova, Abideth Forever (Four Motets No.2)
Thea Musgrave: Ithaca
Aaron Copland: Have Mercy On Us, O My Lord (Four Motets No.3)
Aaron Copland: Sing Ye Praises To Our King (Four Motets No.4)
The BBC Singers
Gabriella Teychenné, conductor
3pm
Melissa Foss Hyatt: Hanblecheyapi (2018)
Performed by the composer
3.10pm
Piotr Ilyich Tchaikovsky: Pas de de deux from Swan Lake
Guy Braunstein, violin
BBC Symphony Orchestra
Kirill Karabits, conductor
3.20pm
Florence Price arr. William Grant Still: Dances in the Canebrakes
Gustav Mahler: Das irdische Leben; Rheinlegendchen; Des Antonius von Padua Fischpredigt ; Wer hat dies Liedlein erdacht? [Des Knaben Wunderhorn]
Malcolm Forsyth: Three Métis Songs from Saskatchewan
Paul Hindemith: Symphonic Metamorphosen on a Theme of Weber
An-Lun Huang: Saibei Dance
Ema Nikolovska, mezzo-soprano
BBC Symphony Orchestra
Mei-Ann Chen, conductor
Presented by Penny Gore.