Main content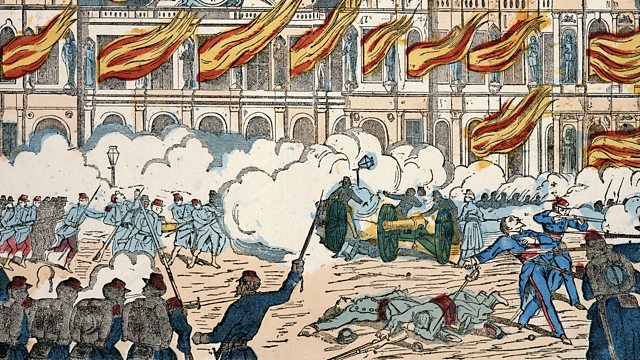 The Siege of Paris 1870-71
Melvyn Bragg and guests discuss the Prussian siege of Paris from 1870 and the Commune which emerged, until that was violently suppressed by French forces in 1871
Melvyn Bragg and guests discuss the siege of Paris during the Franco-Prussian war and the social unrest that followed, as the French capital was cut off from the rest of the country and food was scarce. When the French government surrendered Paris to the Prussians, power gravitated to the National Guard in the city and to radical socialists, and a Commune established in March 1871 with the red flag replacing the trilcoleur. The French government sent in the army and, after bloody fighting, the Communards were defeated by the end of May 1871.
The image above is from an engraving of the fire in the Tuileries Palace, May 23, 1871
With
Karine Varley
Lecturer in French and European History at the University of Strathclyde
Robert Gildea
Professor of Modern History at the University of Oxford
And
Julia Nicholls
Lecturer in French and European Studies at King's College London
Producer: Simon Tillotson
Last on
LINKS AND FURTHER READING
Robert Gildea at the University of Oxford
Karine Varley at the University of Strathclyde
Julia Nicholls at King's College London
Siege of Paris (1870–71) – Wikipedia
READING LIST:
Rupert Christiansen, Tales of the New Babylon: Paris 1869-1875 (Sinclair-Stevenson, 1994)
Carolyn Eichner, Surmounting the Barricades: Women in the Paris Commune (Indiana University Press, 2004)
Gay L. Gullickson, Unruly Women of Paris: Images of the Commune (Cornell University Press, 1996)
Alistair Horne, The Fall of Paris: The Siege and the Commune 1870-1 (first published 1966; Penguin, 2007)
Michael Howard, The Franco-Prussian War: The German Invasion of France 1870-1871 (Routledge, 2001)
John Merriman, Massacre: The Life and Death of the Paris Commune of 1871 (Yale University Press, 2016)
Julia Nicholls, Revolutionary Thought after the Paris Commune, 1871-1885 (Cambridge University Press, 2019)
David A. Shafer, The Paris Commune (Palgrave, 2005)
Robert Tombs, The Paris Commune 1871 (Longman, 1999)
Robert Tombs, France 1814-1914 (Routledge, 1996)
Karine Varley, Under the Shadow of Defeat: The War of 1870-71 in French Memory (Palgrave, 2008)
Broadcasts

Featured in...
Browse the 19th Century era within the In Our Time archive.

Historical themes, events and key individuals from Akhenaten to Xenophon.