Main content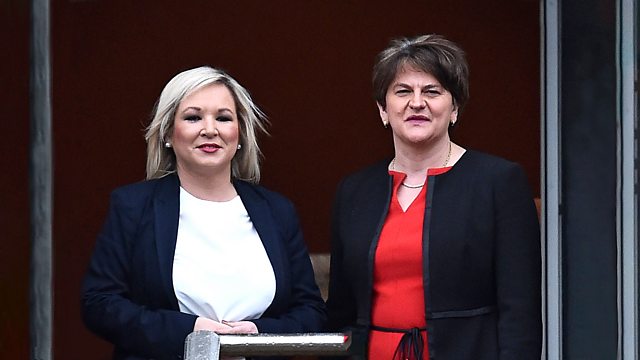 Stormont Women, A Friend's Death, Mixed-Weight Dating
The programme that offers a female perspective on the world
You might have seen a striking picture this week of the two top women in Northern Ireland facing four men in suits. The women are the First Minister, Arlene Foster from the DUP and Deputy First Minister, Michelle O'Neill from Sinn Fein. The new Assembly has more female politicians that ever, so what does this say about how Northern Ireland is changing?
New books and apps help you track your periods and find out when you're on top form and when you're not. But it is true that we can work our life around your hormones if we understand our cycle? Jenni's joined by Dr Emma Ross, Head of Physiology at the English Institute of Sport and Maisie Hill, author of Period Power.
Is mourning a friend different from mourning for someone in the family? You're expected to be very sad when a family member dies but grieving for a friend can be seen as 'too much'. It can also be complicated, especially if you knew them in a different way to how their family did. When friends of our own age die it can bring up all sorts of tricky emotions. Sue Elliott-Nicholls, who knows what it's like to grieve for friends and family, reports.
'Mixed-weight dating' is a term used to describe a couple with a noticeable difference in body size or shape. Some people see it as a straight-forward description of the couple but others say the phrase is offensive. Steph Yeboah is a plus-size and body positive lifestyle blogger. Ebony Douglas is the CEO of her own marketing and PR agency - and has been in a relationship like this for three years.
Last on
Broadcast

Podcast
Women's voices and women's lives - topical conversations to inform, challenge and inspire.