Main content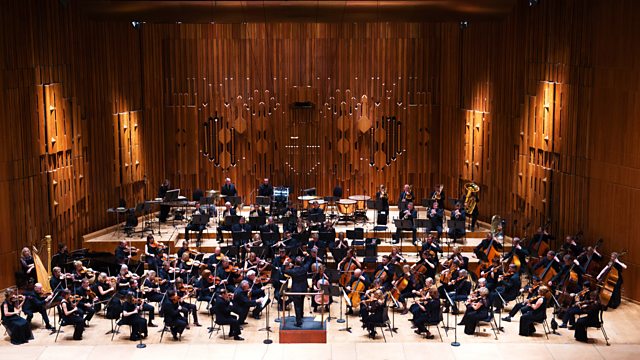 Opera Matinee: Puccini's Manon Lescaut
Penny Gore introduces an Opera Matinee recorded at the Erkel Theatre in Budapest of Puccini's first operatic triumph – Manon Lescaut. Conducted by Balazs Kocsar.
Today's Opera Matinee was recorded at the Erkel Theatre in Budapest in 2019: Puccini's first great operatic triumph - Manon Lescaut.
Manon, who has shown a taste for pleasure, is on her way to a convent on the orders of her parents when she meets the young student Des Grieux. The pair fall in love and elope to Paris, but when the elderly Geronte offers Manon a life of wealth and luxury, her head is turned.
Hungarian soprano Gabriella Létay Kiss sings the title role of Manon, with the late Marcello Giordani as Des Grieux and bass András Palerdi as the older, wealthier man, Géronte de Ravoir. Balázs Kocsár conducts the Hungarian State Opera Chorus & Orchestra.
2pm
Manon Lescaut, an opera in four acts, by Giacomo Puccini
Gabriella Létay Kiss, soprano - Manon Lescaut
Marcello Giordani, tenor - Chevalier des Grieux
Levente Molnár, baritone - Lescaut (Manon's brother, a sergeant)
András Palerdi, bass - Géronte de Ravoir (Treasurer General)
Péter Balczó, tenor - Edmond (a student)
József Mukk, tenor - Lamplighter
András Kiss, bass-baritone - Innkeeper / Naval Captain
Sándor Egri, bass - Sergeant
Melinda Heiter, mezzo-soprano - Musician
László Beöthy-Kiss, tenor - Dancing Master
Hungarian State Opera Chorus & Orchestra
Balázs Kocsár, conductor
4.10pm
Celia Swart: In my web
Herz Ensemble
4.20pm
Bela Bartok: Violin Concerto No.2
Renaud Capuçon, violin
BBC Symphony Orchestra
Péter Eötvös, conductor
Presented by Penny Gore
SYNOPSIS
Act I
In one of the squares of the French city of Amiens, the student and budding poet Edmondo and his companions are getting ready for their usual evening revelry. His friend des Grieux is not joining the young people in their fun. A vehicle arrives bearing interesting passengers: an older powerful lord named Geronte and a former soldier named Lescaut, who is escorting his beautiful younger sister, Manon, to a convent. Des Grieux immediately falls in love with the girl and starts up a conversation with her. Lescaut, however, wishes to obtain the support of Geronte, in exchange for which he is willing to offer up his sister. Instead of making the transaction, though, the old gentleman plans to abduct Manon. Edmondo, however, overhears Geronte and warns des Grieux, who ends up fleeing to Paris together with the girl. Lescaut reassures the old lord that this affair will not last long and that he will soon regain Manon for him.
Act II
Lescaut has proved correct: Manon has abandoned the penniless des Grieux without so much as a farewell and is now living a sumptuous lifestyle in Geronte's Paris home. She is bored, though, and thinks nostalgically about her time with the student. Geronte sends Manon a madrigal chorus as a gift. When he arrives with his old friends, Manon sings and dances for them. After the guests depart, Manon promises Geronte that she will join him soon, but suddenly des Grieux appears in her room: he has been searching for Manon. The lovers are reunited in blazing love. Geronte catches them and threatens them, before departing. Lescaut rushes in to warn them that Geronte intends to have Manon arrested, so they must flee. The girl attempts to gather up her jewellery to take with them, but this delay prevents them from escaping: they are arrested.
Intermezzo
Through des Grieux's thoughts, the story of Manon's arrest and how she has been taken to Le Havre is revealed. 
Act III
A prison in the port of Le Havre. It is dawn. Des Grieux is in the area around the prison waiting for an opportunity to speak with Manon. Lescaut bribes a guard, and the two young lovers are able to meet again, through the prison bars. Meanwhile, Lescaut organises a team to free Manon. This attempt to get her out also fails, and shots ring out. The people of the city gather to watch the loose women banished to America as they are called aboard the ship. The despairing des Grieux threatens the ship captain to let Manon go, but he is disarmed. The captain eventually takes pity on the lovers and allows des Grieux to stay on the ship as a sailor.
Act IV
The desert. Des Grieux and Manon are nearly out of strength, and the latter collapses from thirst and exhaustion. Des Grieux leaves to find the water that will save Manon's life. When he returns, the dying woman is able to tell him, with a final sigh, that she loves him.