Main content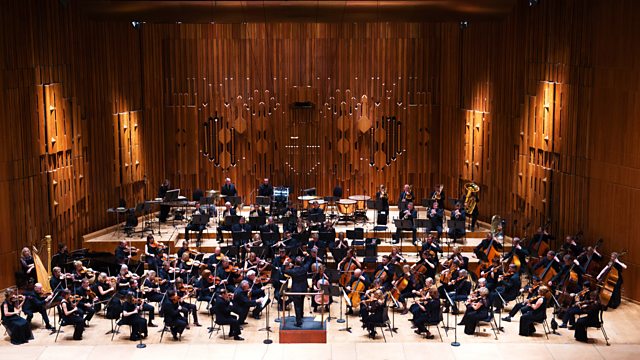 BBC Symphony Orchestra at the Barbican
Alexander Vedernikov conducts the BBC Symphony Orchestra in music by Georgy Sviridov, Rachmaninov and Tchaikovsky at the Barbican. Plus works by Schoenberg and Gerta Raidma.
This week Penny Gore introduces concerts given by the BBC Symphony Orchestra and the BBC Singers. There are also highlights each day from the 66th International Rostrum of Composers, which took place in Argentina.
The week begins with a concert conducted by Alexander Vedernikov, featuring Gyorgy Sviridov's paean to Pushkin - 'The Blizzard', Rachmaninov's ever-popular set of variations on one of Paganini's Caprices - with soloist Andrei Korobeinikov, and Tchaikovsky's earliest notable work - the First Symphony.
The programme also includes a recent work for mixed choir by the young Estonian composer Gerta Raidma, which was recorded at the 66th International Rostrum of Composers in San Carlos de Bariloche, Argentina. To end, Jack Liebeck joins the BBC Symphony Orchestra to perform the violin concerto that Schoenberg composed three years after fleeing Nazi Germany to the USA.
2pm
Gyorgy Sviridov: The Blizzard (Suite)
Rachmaninov: Variations on a Theme of Paganini
Tchaikovsky: Symphony No.1, "Winter Daydreams"
Andrei Korobeinikov, piano
BBC Symphony Orchestra
Alexander Vedernikov, conductor
3.40pm
Gerta Raidma: Je suis (2018)
Estonian Philharmonic Chamber Choir
Kaspars Putniņš, conductor
3.45pm
Arnold Schoenberg: Violin Concerto
Jack Liebeck, violin
BBC Symphony Orchestra
Andrew Gourlay, conductor