Main content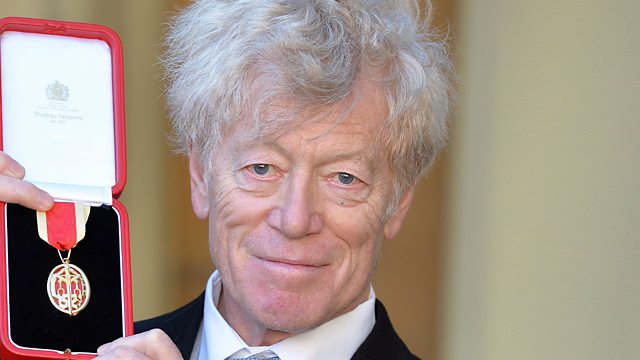 Sir Roger Scruton FBA, FRSL, Sultan Qaboos bin Said of Oman, Bobby Neame CBE, Elizabeth Sellars
Matthew Bannister on philosopher Sir Roger Scruton, Sultan Qaboos bin Said of Oman, brewer Bobby Neame, actress Elizabeth Sellars
Pictured: Sir Roger Scruton
Matthew Bannister on Sir Roger Scruton, the leading conservative philosopher of his generation, known for his work on aesthetics. His outspoken views made him a controversial figure for some on the left.
Sultan Qaboos bin Said of Oman who overthrew his father in a coup and transformed his country.
Bobby Neame, the Chairman of Shepherd Neame - the country's oldest brewing company based in Kent.
Elizabeth Sellars, the British actress who appeared alongside Humphrey Bogart in "The Barefoot Contessa" and Marlon Brando in "Desiree".
Interviewed guest: Lord Maurice Glasman
Interviewed guest: Douglas Murray
Interviewed guest: Calvin Allen
Interviewed guest: Jonathan Neame
Interviewed guest: Dr Melanie Williams
Producer: Neil George
Archive clips from: The English Fix, Radio 4 14/09/2017; On Your Farm, Radio 4 28/10/2001; Best of Today Podcast, Radio 4 26/04/2019; Profile: Sultan Qaboos Of Oman, Radio 4 11/01/1980; Sultan Of Muscat and Oman Interview, Radio 4 02/08/1970; Oman Civil War, Thames TV 22/03/2017; Slang: Spitfire Ale advert 27/06/2013; Newsroom South East, BBC One 21/01/1998; Forbidden Cargo, directed by Harold French, J. Arthur Rank Organisation/ London Independent Producers 1954; Hunted, directed by Charles Crichton, Independent Artists/ British Film Makers 1952; Desiree, directed by Henry Koster, Twentieth Century Fox 1954; The Barefoot Contessa, directed by Joseph L. Mankiewicz, Transoceanic Film /Figaro 1954; A Voyage Round My Father, directed by Alvin Rakoff, Thames Television 1982.
Sir Roger Scruton FBA, FRSL
Born 27 February 1944; died 12 January 2020, aged 75.
Last Word spoke to his friend Lord Maurice Glasman, and author, journalist and political commentator Douglas Murray.
Sultan Qaboos bin Said of Oman
Born 18 November 1940; died 10 January 2020, aged 79.
Last Word spoke to Calvin Allen, Emeritus Dean, College of Arts and Sciences, Shenandoah University.
Bobby Neame CBE
Born on 25 February 1934; died 15 November 2019, aged 85.
Last Word spoke to his son Jonathan Neame.
Elizabeth Sellars
Born 6 May 1921; died 30 December 2019, aged 98.
Last Word spoke to Dr Melanie Williams, lecturer in Film, Television, and Media Studies at the University of East Anglia.