Main content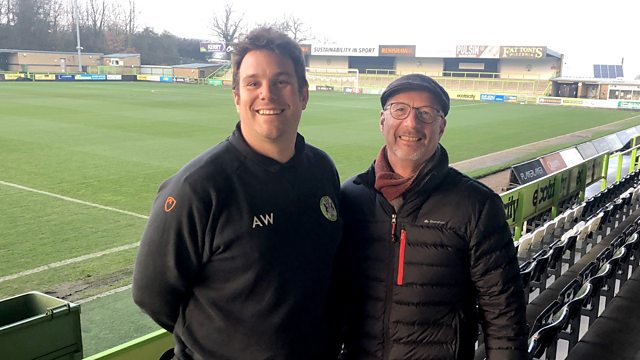 Nailsworth, Cotswolds
Peter Gibbs and the team are in Nailsworth, Cotswolds.
Peter Gibbs and the team are in Nailsworth, Cotswolds. Pippa Greenwood, Chris Beardshaw and Chris Thorogood answer the questoins.
This week, te panellists offer ideas for a GP surgery garden, discuss the merits of a composting toilet and recommend winter flowers for bumblebees. Peter also visits neighbouring football team Forest Green Rovers to chat to Head Groundsman, Adam Witchell.
Away from the questions, Peter and Pippa go for a walk to talk about winter wildlife.
Producer: Dan Cocker
Assistant Producer: Jemima Rathbone
A Somethin' Else production for BBC Radio 4
Last on
Plant List
Questions and time codes are below. Where applicable plant names are provided.
Q – I have a compost toilet in my garden – it's wonderful! Do the panel have compost toilets? And if not, why not?
(4 minutes 47 seconds)
Q – I have been growing onions from sets for a number of years but have noticed that some have an inner layer which is brown and slimy. What causes this – is in inherent in the set? And is there anything that can be done to prevent it?
(7 minutes 32 seconds)
Q – Which plants would the panel suggest for a small garden in a GP's surgery?
(9 minutes 26 seconds)
Chris Thorogood – French lavender (Lavandula stoechas)
Coronilla valentina (Coronilla glauca)
Stipa
Chris Beardshaw – Feverfew (Tanacetum parthenium)
Saponaria
Artemisia (Mugworts)
Woundworts
Meadowsweet (Filipendula ulmaria)
Q – My Butternut squash flowers often fall off – what am I doing wrong?
(13 minutes 47 seconds)
Feature
(17 minutes 33 seconds)
Q – Could the panel suggest some winter flowers for bumblebees that will fill the gap that comes with this time of year?
(25 minutes 11 seconds)
Chris Thorogood – Crocus
Cyclamen coum (Eastern sowbread)
Hamamelis (Witch-hazel)
Ivy
Honeyworts – Cerinthe
Pippa – Lonicera fragrantissima (Winter honeysuckle)
Lonicera x purpusii (Winter Beauty)
Viburnum
Q – We have a patio garden with crazy paving and no grass. I would like to lift a few stones and plant some low growing evergreen or alpine plants – what do you suggest?
(28 minutes 38 seconds)
Chris Beardshaw – Alpine primula
Saxifraga
Sedum
Alyssum
Aubrieta
Correspondence
(32 minutes)
Q – Can the panel explain why my Bougainvillea which refused to flower outside in a warm, sheltered sunny spot in the summer, is now flowering inside in a cold room?
(34 minutes 30 seconds)
Q – I've always been able to use work as an excuse to neglect my garden, but I'm retiring next month. Does the panel have any advice for how I can use gardening as an excuse to neglect my husband?
(37 minutes 29 seconds)
Chris Thorogood – Dracunculus vulgaris
Broadcasts