Main content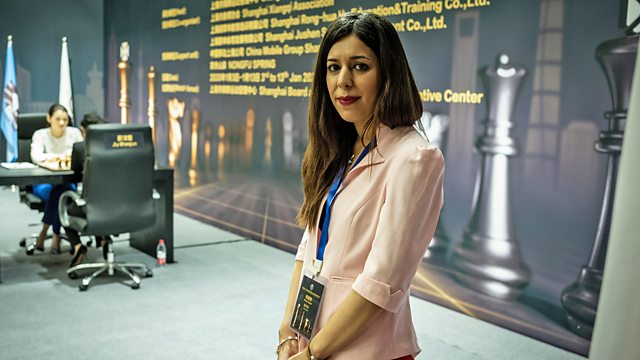 Iranian referee Shohreh Bayat at the Women's Chess World Championship and the controversy about her hijab
Controversy surrounding Shohreh Bayat; Anne Bronte and The Tenant of Wildfell Hall; what we want and like from sex; Francesca Wade and independent women in the early 20th century.
Shohreh Bayat, an Iranian chess referee, has caused controversy this week having been accused of not wearing a hijab at the current Women's World Chess Championship. The wearing of the headscarf is mandatory in her country and despite disagreeing with the rule she claims she was complying. We hear from Shohreh. How worried is she about returning to Iran? And BBC correspondent, Sarah Rainsford explains her situation.
On the bicentenary of Anne Brontë's birth, screenwriter Sally Wainwright (To Walk Invisible) and Anne Brontë biographer, Adelle Hay (Author of Anne Brontë: Reimagined) discuss Anne's most famous work 'The Tenant of Wildfell Hall', and why it is now considered one of the first feminist novels.
The latest statistics suggest young British people are having less sex than ever before. Could this be because it can be so hard to be open about what we like, and
what we want, from sex? Do our gender expectations make it particularly hard for straight men to admit they like a submissive role in sex? What about when the
sexual act itself comes with elements of stigma or taboo - like anal play? We discuss how straight men can talk about sexual desire with female partners and why this
matters. Shakira 'Scotty' Scott is an erotic romance author and blogger. Habeeb Akande is a sexual well-being educator. Matthew is 30 and has been married for two
years.
Francesca Wade has written a group biography about five exceptional women – the modernist poet, H.D., the detective novelist, Dorothy L Sayers, the classicist Jane Harrison, the economic historian Eileen Power and the writer and publisher Virginia Woolf. They all lived at different times in the same London square. She discusses with Jenni the struggles these women faced to live, love and above all, work independently in the early 20th century.
Presenter: Jenni Murray
Producer: Kirsty Starkey
Interviewed Guest: Shohreh Bayat
Photographer: Misha Friedman
Interviewed Guest: Sarah Rainsford
Interviewed Guest: Sally Wainwright
Interviewed Guest: Adelle Hay
Interviewed Guest: Shakira 'Scotty' Scott
Interviewed Guest: Habeeb Akande
Interviewed Guest: Francesca Wade