Main content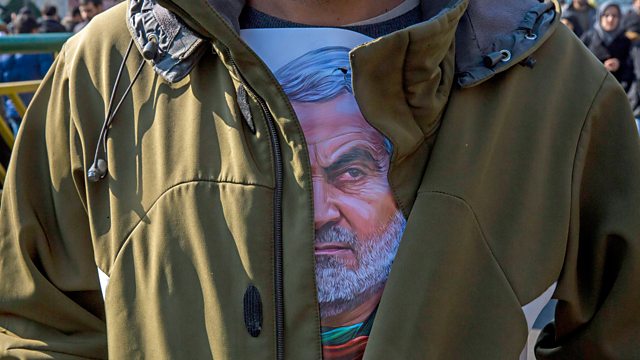 Iran's Divided Loyalties
There was a "sea of humanity" on the streets of Iran to mourn General Suleimani and genuine anger towards America for his killing but there are mixed loyalties at home and abroad.
The Iranian government held an official funeral on Tuesday for General Qassem Soleimani killed by a US airstrike in Baghdad. There were emotional speeches in the general's home town of Kerman in southeast Iran and so many mourners turned out that at least 50 were killed in the crush. On Twitter the Iranian Foreign Minister had a message for President Donald Trump: "Have you seen such a sea of humanity in your life?... Do you still think you can break the will of a great nation and its people?" But were the huge crowds really a sign of national unity? Lois Pryce who wrote a book about crossing Iran on a motorbike and who has friends both inside the country and across the 2 million strong Iranian diaspora finds public opinion far from unanimous.
Ever since independence from the USSR almost three decades ago, there's never been an Uzbek election which outsiders were willing to call free or fair. But this time was meant to be different. On the 22nd of December, Uzbekistan ran its first elections to the parliament and local councils since the country's long-running authoritarian president Islam Karimov died three years ago. Uzbekistan has long been one of the world's most repressive countries and under Karimov voting was more of a ritual than an exercise of choice. But some hoped that the man who took over, Shavkat Mirziyoyev, (Meer-zee Yoi -yev) might allow some real reform. A record 25 million dollars were earmarked to run the elections, and Ibrat Safo found a real buzz in the air but wondered what lay beneath.
Germany has long been considered a leader in renewable energy – a model even for others to follow with its subsidies for wind and solar. But its so-called "Energiewende" (Ener - GEE -vender ) or energy transition" from fossil fuels to renewables has stalled and it still relies on coal for 40 per cent of electricity generation. That will be phased out within the next eighteen years and nuclear energy will end too by 2022 and some worry whether there will be enough energy to heat homes and keep the lights on. Caroline Bayley has been to one former coal town in the industrial Ruhr region which is under-going its own energy transition.
The gargantuan Palace of the Parliament built by Romania's communist-era dictator, Nicolae Ceaușescu, still looms over the centre of Bucharest. About one-fifth of the capital was bulldozed to make way for the so-called House of the People, its satellite buildings, and the grand avenue leading up to it which was supposed to be a longer, wider version of Champs-Élysee in Paris. Forty thousand residents were forcibly rehoused. The building was long reviled as an evil fortress, a symbol of oppression but it now houses the country's parliament and Romanians are learning to love it and put it in their Instagram feeds says Tessa Dunlop.
More and more tourists are travelling to the Amazon rainforest to drink – and later vomit - a foul tasting liquid containing a natural hallucinogen called Ayahuasca [a-ya-wass-ka]. Indigenous people have been brewing the concoction for thousands of years, mostly for religious or spiritual purposes. It's considered a medicine, a way to heal internal wounds and reconnect with nature. But, as Simon Maybin's been finding out in a remote part of Peru, not all the plant's traditional users are happy about the wave of Westerners in search of a slice of the psychedelic action.