Main content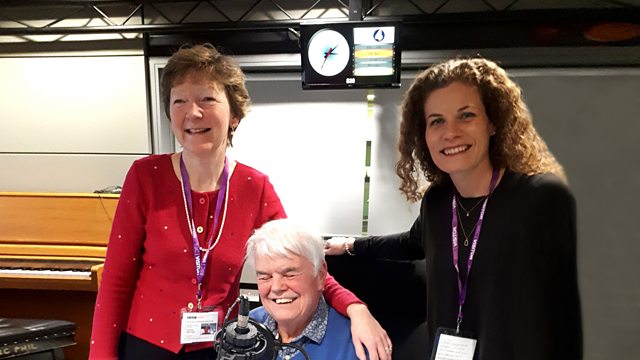 Help On Your Doorstep?
Peter White looks at smaller blind charities. What role do they play? How are they funded? Do enough people actually know they exist?
Peter White with a focus on smaller blind charities in the UK.
We hear from Visionary, an umbrella organisation which represents more than a hundred of these charities.
The Chief Executives of Sight Concern Worcestershire and Sight Service Gateshead tell us about the challenges they face.
And we hear from the people who use the services on offer.
PRODUCER: Mike Young.
Help on your doorstep?
Downloaded from www.bbc.co.uk/radio4
THE ATTACHED TRANSCRIPT WAS TYPED FROM A RECORDING AND NOT COPIED FROM AN ORIGINAL SCRIPT.  BECAUSE OF THE RISK OF MISHEARING AND THE DIFFICULTY IN SOME CASES OF IDENTIFYING INDIVIDUAL SPEAKERS, THE BBC CANNOT VOUCH FOR ITS COMPLETE ACCURACY.


TX:  14.01.20  2040-2100
PRESENTER:          PETER WHITE
PRODUCER:            MIKE YOUNG
White
Good evening.  We're often asked, on this programme, especially by people who've only recently lost their sight, where can I get practical help or maybe just someone to talk to about all the new problems that I'm facing.  There's a temptation always just to mention the larger relatively well-known organisations – RNIB, Guide Dogs, maybe Blind Veterans UK.  But what many people may not know is that help could be available much closer to home.
There are almost 180 local organisations for visually impaired people in the UK.  They vary enormously in size and resources but tonight we want to take a longer look at what they offer, how they're funded and how secure they are in this uncertain financial climate.  Someone who did manage to find that help, just round the corner, is Margaret from Gateshead.
Margaret
I just sat at home, I vegetated, I thought my life was over, I was never going to be able to do all the things I used to do.  So, I phoned up, I thought – Oh god, there's no way this organisation can help me.  I used to do a lot of knitting, baking.  If I can just get back to my knitting and sewing and things like that, oh god, I've been given the lottery.
White
We'll hear more of Margaret's story a little later in the programme.
Many of these organisations may be quite small but put them altogether and they have a significant collective spend.  The UK's local sight loss charities spend £135 million a year, that's over £20 million more than the RNIB.  Around two-thirds of them belong to an umbrella organisation called Visionary.  Its chief executive is Fiona Sandford and Fiona joins us from our Glasgow studio.
Fiona, all these organisations that you try and draw together, is there a blueprint for the way they should be run, I mean how autonomous are they?
Sandford
There's not really a blueprint because the good thing about the local societies throughout the UK is that they are all independently run, they're all different, they adapt and evolve to fit the community which they serve, so, they're different in size, they offer different services.
White
So, I mean what is your role, what are the kind of things that they look to you to do?
Sandford
What they look to Visionary to do is provide a collective voice.  We work with them all to help them with governance, with recruitment, with bids, with tenders, with generating income.  All of these organisations have a wide range of income streams, many are very dependent on the general public – on donations – lots of them have grants and trusts income, they deliver contracts on behalf of the local authority, some also deal with health.  But, yes, that's becoming increasingly challenging, it always has been difficult to generate income as a charity but as public services decrease then demands on charitable services increase.
White
Well stay there Fiona, we're going to hear more about those challenges and we will come back to you.  We've brought together two people who run local charities and two who use their services.
Jenny Gage is the chief executive of Sight Concern in Worcestershire.
Gage
We appreciate that when people lose their sight there's an awful lot of information that they need and they won't know what's available out there.  So, we start with simple information and advice-based services.  We run, what's called, a low-vision clinic, so looking at remaining sight and prescribing magnifiers.  We run some courses called Living with Sight Loss, we then run sight loss support groups.  We've got six sight loss advisors who work across the county and will help people with all sorts of different challenges, very personalised service, what are you struggling with, how can we put you in touch with people or services, equipment that can help you.
White
And are these your staff, are these people who the organisation actually employs?
Gage
So, we've got a team of 18 members of staff but we've actually got currently about 216 volunteers.  We run some befriending services, so we match people with a sighted person who can help them to get out and do some of the things that they might not be able to do alone.  We also run some social activity groups all purely by volunteers.
White
Now you lost local authority funding five years ago, I think, what effect did that have on what you could do?
Gage
Obviously, you know, huge loss of funding, quite frightening for the organisation working out what we could afford to do and go forwards.
White
I mean how much did you lose?
Gage
Err over £120,000 per year.
White
That's a whopping gap isn't it?
Gage
A huge gap.  So, we actually were able to expand our service but all of it was down to lottery funding.  So, we've had three years of lottery funding, we've got another three years that reduces year on year and at the end of those three years we're back to square one.
White
Let me bring in Shirley Sheridan, who's alongside you, who is a user of the services.  I mean, first of all, just tell us a bit about yourself and how did you lose your sight because it was quite sudden wasn't it?
Sheridan
Yes, it was.  I lost my sight due to diabetes retinopathy.  I was standing in front of the bathroom mirror combing my hair when suddenly everything went blurred in both eyes at the same time.  Of course, I got an emergency appointment with my GP and she immediately referred me to the local eye hospital.  And it was about four months later that the consultant registered me as blind.
White
So, what did finding Sight Concern Worcester, what did that do for you?
Sheridan
Well I received a phone call from them and her name was Elizabeth, inviting me to attend the Which Way Now course.  To begin with I declined because I couldn't see the point.  How could anybody make a difference to my life unless they gave me back my sight?  And it was only when Elizabeth informed me that she was registered blind that I actually started listening to her. 
White
And what is the Which Way Now course?
Sheridan
It's a rehabilitation course where they give you advice and inform you of aids and equipment.  Also, of course, they got you in touch with other visually impaired people, which is a big help.
White
I mean is that the key thing?  It seems that you've mentioned it a couple of times, is that the main thing – finding other people in the same boat?
Sheridan
Well of course, you meet up with other visually impaired people, you realise you're not alone with your fears and anxieties.  There's a young lady called Lucy who did a sky dive, two years later I too did a sky dive and that was the start of me living and all my challenges that I've done since then, such as zip wire, wing walk, white water rafting.
White
Let me bring in Newcastle.  Sarah French runs Sight Service in Gateshead there.  First of all, as with Jenny, what services do you offer?
French
So, we offer quite similar services to those in Worcester.  I suppose what's significantly different is that we hold the local authority contracts for both South Tyneside and Gateshead.  So, that means that we help register people with sight impairment or severely sight impaired or blind and then we work with them to pull together a personal support plan. 
White
But you have lost a lot of funding, this is grant funding.  Can you explain what that is and what it meant you lost?
French
So, back in around 2015/16 we had grant funding from over 20 different sources, so trust funds, some were social investment, some was business grants.  We did and continue to have a lottery grant and that, similar to Worcester I think, has probably been a very consistent and stable source of income for us.  But most grants are quite short-term.  Unfortunately, we were in a position that a lot of those grant funds all ended at the same time.
White
And how much did you lose?
French
Just under £200,000.
White
White I think meant that you had to make some pretty brutal cuts to your staffing?
French
Yes, so, the organisation almost halved, the whole service was picked up and reviewed.  A lot of our activity had to stop because it was no longer funded.  As a result of that, I think, Sight Service works much more efficiently.
White
And still trying to come to terms with the fact that you lost a lot of money but you've also said you actually – you think you offer services to more people; I'm trying to figure out how that can be done.
French
I think more different people.  Where historically the grant funding has supported groups to do various activities, which, as I said, are absolutely valuable, those groups, many of them, still exist but they're run by the people who attend the groups.  We still offer support but we don't organise and manage those groups, they're self-led.
White
Is00:10:27 Real time this visually impaired people themselves who are taking more control of them?
French
Yeah, yeah, absolutely.
White
Let me bring in Margaret, who's with you in Newcastle.  Margaret, tell us your story and how you lost your sight.
Margaret
What happened to me was I had a head trauma and it caused me to lose most of my sight and also my hearing.  It was a big, big blow to me, as I was a professional person working and one thing and another, I ended up having five operations and in the end the consultant had to say to me that he was very sorry there was nothing more they could do for me.  I just sat at home, I vegetated, I thought my life was over, I was never going to work again, I was never going to be able to do all the things I used to do.  One day I went to my daughter, she said I'm really sick of you vegetating, because she knew me.  Leaflets had been dropped into the surgery and my doctor had picked one up and she actually gave me that leaflet for my husband to read.  So, I phoned up, I thought oh god, this – there's no way this organisation can help me.  Just like Shirley said.
White
So, what changed your mind?
Margaret
When I walked in, I met a man called Mike.  Mike had a very big impact on me because he said to me – Margaret, you can do anything you want to do, you just have to learn to do it a different way.  That sentence has stayed with me all the way through this.
White
And can you give me examples of the things that you've applied that to?
Margaret
Oh gosh, yes.  I used to do a lot of knitting, baking.  Mike introduced me to talking scales, I went – wow, talking scales, great I can do my baking.  It went on from there, I was so happy.  I went home and I baked a cake and I took it to them the next day and it was very nice, so it obviously worked.
White
Is this ringing bells Shirley with you?
Sheridan
Yes, very much so.  Although I commented that I've done a sky dive and all those challenges, I'll never forget the first time I made my own hot drink using a liquid level indicator.  Those small things, they really, really matter right at the beginning when you've just lost your sight because that is the first steps towards independence.  You're not feeling a failure anymore. 
Margaret
I totally agree with Shirley there because if it hadn't had been for Sight Services, I wouldn't have had all these appliances.  I've got this special vegetable knife; I can peel my own vegetables without cutting myself.  Those are small steps but when you first achieve them, they're giant steps and then you take another step and you learn something else.  I certainly couldn't jump out of an aeroplane, I really mean that, I couldn't but if I can just get back to my knitting and sewing and things like that, oh god, I've been given the lottery, it's amazing.
White
I just want to bring Jenny back because I'm wondering if there's a frustration here in the sense that you've made the comment that people just often don't know about the local organisations and we've heard both Shirley and Margaret say how reluctant they were to come to you anyway, even when they did know.
Gage
Yeah, and I think a lot of the time it is that lack of awareness of what a local organisation can do for you.  And like Shirley said, if someone can't give them their sight back then what on earth can we do for people.  And I think that's why it's really important that we help people with sight loss meet other people with sight loss because sometimes it's better to speak to somebody and not even really talk about the service but talk about the experiences they've had.
White
And Sarah, you're in the same boat in a way, I'm just wondering how you do raise awareness.  I don't imagine you've got a huge marketing budget.
French
Err no we don't have a huge marketing budget and I do think that's one of the key issues and certainly a conversation that I'm having locally, to raise awareness beyond people who are experienced in sight loss.  I think it's so important for employers and businesses and hospitality industries and leisure services to understand how their services can change for people with visual impairment.
White
Can I just ask you both, Jenny and Sarah, how concerned you are though about the financial future?
Gage
If we don't exist then the types of services that we provide won't be available for people.  So, we do have huge concerns but almost one of the positives that's come from us facing these funding challenges is where we used to provide a lot of the services for people, very much our model, going forwards, is how we can help people with sight loss to be active members of their communities.
White
And with this idea of visually impaired people, to some extent, running their own organisations and their own services, Shirley and Margaret, any suggestions that you'd make that could make your voluntary organisations better?
Margaret
Well I think, like I say, you can do anything you want to do and you can pass this on to partial sighted people and blind people.
Sheridan
But it's really important that people are aware of their local services because it really does make a difference and it's really important they are in touch with those services as soon as they need them.
White
That's users Shirley and Margaret with chief execs Jenny and Sarah.  But as you'll have gathered, these organisations can sometimes operate on a knife edge.
We covered a case in point almost two years ago when Northamptonshire County Council was notoriously facing a £70 million funding shortfall.  Amongst sweeping cuts it was making was the funding for Northamptonshire's Association for the Blind.  This was a £75,000 contract to provide rehabilitation services.  Well, we spoke to the then chief executive of the association, Alex Lohman and he's back with us now.
Alex, at the time, when we talked to you, you really didn't know how you were really going to survive this.  Tell us what's happened over the last couple of years.
Lohman
Well I'm glad to say that with the help of fellow local societies, colleagues in Visionary and the national organisations, such as the RNIB, we managed to convince the county council of the value of services for visually impaired people and they rescinded the cut.  They've maintained that level of funding since.
White
But now you've had six years of lottery funding as well but again, as we've heard, that doesn't last forever.  How secure do you think you are now, as you look to the future, because, you know, if local authorities can cut in one year, they can do it again, can't they?
Lohman
They certainly can.  We continue to make the case to them and other funders about the value of the work we do and we've recently commissioned a survey, for example, a report by the University of Northampton, looking at the social value and impact of our work and that demonstrated for every £1 that funders give us we produce in excess of £4 of positive social impact.  Regarding security of funding, yes, we've had six years of lottery funding, that's just come to an end, so we're in the process of reaching out to the lottery and other prospective funders to see how we can maintain services moving forward.
White
Alex Lohman, thanks very much for joining us again.
Let me just finally bring back Fiona Sandford from Visionary.  Now as Alex said, you helped support Northamptonshire two years ago, these organisations walk a funding tightrope, is this a sustainable model in the years to come do you think?
Sandford
It's a funding tightrope, as you've described it.  Is it sustainable?  Well, do you know, a lot of these organisations have been around since the 1850s, so we're obviously doing something right.  Nobody's pretending these aren't challenging times but I think what we have is a really good set of organisations who can rise to that challenge.
White
One of the things we have heard about is the suggestion that visually impaired people themselves are becoming more involved in running their organisations, indeed the move over recent years has been very much that they should be running those organisations.  Is that something that's happening because they actually believe in the principle that people should be running them?
Sandford
Well I would hope it was because they believed in the principle.  At a recent Visionary conference that was very much the focus of what we were aiming to get across, was that people with lived experience, sitting along people with learned experience is most definitely the way ahead for local organisations.
White
Fiona Sandford, thank you very much indeed.
And that is it for today but we would like you to tell us your experiences – good and bad – of charities at the local level.  You can leave us messages and your comments on 0161 8361338.  You can email intouch@bbc.co.uk.  Or you can go to our website, that's bbc.co.uk/intouch where you can download tonight's and many other previous editions of the programme.  That's it from me, Peter White, producer Mike Young and the team, goodbye.