Main content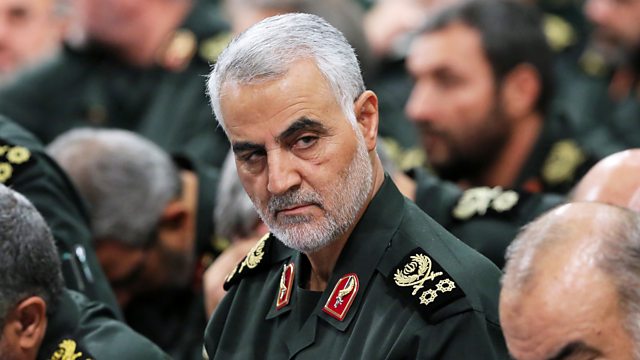 General Qasem Soleimani, M.C. Beaton, George Laurer, Dr Sidney Holt
Matthew Bannister on General Qasem Soleimani, writer M.C. Beaton, engineer George Laurer, biologist Dr. Sidney Holt.
Pictured: General Qasem Soleimani
Matthew Bannister on
Iranian General Qasem Soleimani, who was killed by an American drone strike. We try to uncover the motivation of the man who spread Iran's military influence throughout the Middle East.
M.C. Beaton who wrote more than 250 books which sold in their millions, including romantic fiction and murder mysteries featuring PC Hamish Macbeth and Agatha Raisin.
George Laurer, the American engineer who played a pivotal role in the invention of the barcode.
Dr. Sidney Holt, the biologist credited with saving the blue whale from extinction.
Interviewed guest: Kasra Naji
Interviewed guest: Mike Ripley
Interviewed guest: Chris Stokel-Walker
Interviewed guest: Vassili Papastavrou
Producer: Neil George
Archive clips from: Profile, Radio 4 08/03/2015; TV Eye, Thames TV 1979; September 11 Attacks, CNN 07/09/2011; President Trump on Soleimani, The Telegraph 05/01/2020; Soleimani on Trump, MEMRI TV 30/07/2018; Soleimani's funeral, The Sun 06/01/2020; Front Row, Radio 4 16/08/2010; The Chocolate Debutante by MC Beaton, read by Patience Tomlinson, Hachette Audio UK 2019; Hamish Macbeth, BBC Four 23/03/2008; Agatha Raisin and the Quiche of Death by MC Beaton, read by Penelope Keith, Chivers Audiobooks 05/07/2012; Woman's Hour, Radio 4 10/12/2014; George Laurer: CSCMP Supply Chain Hall of Fame, CSCMPTube 02/10/2017; Sidney Holt: In His Own Words, Stephen Best May 2010; Britain's Whale Hunters: The Untold Story, BBC Four 27/10/2016; Newsnight, BBC Two 07/04/2000; Today, Radio 4 29/05/1995; Front Row, Radio 4 10/04/2006.
General Qasem Soleimani
Born 11 March 1957; died 3 January 2020, aged 62.
Last Word spoke to Kasra Naji, Special Correspondent for BBC Persian Television.
Marion Chesney (M.C. Beaton)
Born 10 June 1936; died 30 December 2019, aged 83.
Last Word spoke to critic and author Mike Ripley.
George Laurer
Born on 23 September 1925; died 5 December 2019, aged 94.
Last Word spoke to journalist Chris Stokel-Walker.
Dr Sidney Holt
Born 28 February 1926; died 22 December 2019, aged 93.
Last Word spoke to whale biologist Vassili Papastavrou.