Main content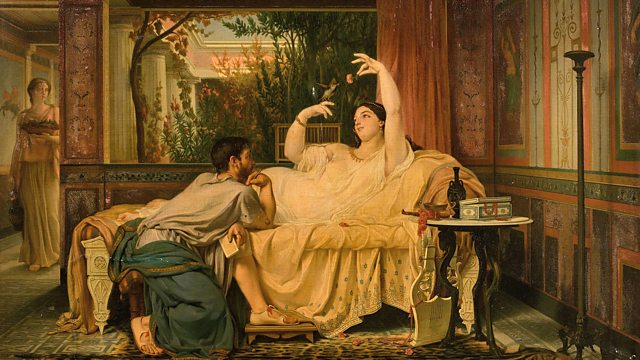 Catullus
Melvyn Bragg and guests discuss the poetry of Catullus - some of the greatest verse of his time, and some of the most scurrilous - and his influence on Roman and later poetry
Melvyn Bragg and guests discuss Catullus (c84-c54 BC) who wrote some of the most sublime poetry in the late Roman Republic, and some of the most obscene. He found a new way to write about love, in poems to the mysterious Lesbia, married and elusive, and he influenced Virgil and Ovid and others, yet his explicit poems were to blight his reputation for a thousand years. Once the one surviving manuscript was discovered in the Middle Ages, though, anecdotally as a plug in a wine butt, he inspired Petrarch and the Elizabethan poets, as he continues to inspire many today.
The image above is of Lesbia and her Sparrow, 1860, artist unknown
With
Gail Trimble
Brown Fellow and Tutor in Classics at Trinity College at the University of Oxford
Simon Smith
Reader in Creative Writing at the University of Kent, poet and translator of Catullus
and
Maria Wyke
Professor of Latin at University College London
Producer: Simon Tillotson
Last on
LINKS AND FURTHER READING
Maria Wyke at University College London
Simon Smith at the University of Kent
Gail Trimble at the University of Oxford
READING LIST:
Josephine Balmer, Piecing Together the Fragments: Translating Classical Verse, Creating Contemporary Poetry (Oxford University Press, 2013)
Anne Carson, Nox (New Directions, 2009)
Gaius Valerius Catullus (trans. Simon Smith), The Books of Catullus (Carcanet, 2018)
Catullus (trans. Guy Lee), Catullus: The Complete Poems (Oxford University Press, 1998)
Catullus (trans. Brandon Brown), The Poems of Gaius Valerius Catullus (Krupskaya, 2011)
William Fitzgerald, Catullan Provocations: Lyric Poetry and the Drama of Position (University of California Press, 2000)
John Godwin, Reading Catullus (Liverpool University Press, 2008)
Julia Haig Gaisser, Catullus: Blackwell Introductions to the Classical World (Wiley-Blackwell, 2009)
Gilbert Highet, Poets in a Landscape (NYRB, 2010)
R.O.A.M. Lyne, The Latin Love Poets: From Catullus to Horace (Oxford University Press, 1981)
Jon Stone, Bad Kid Catullus (Sidekick Books, 2017)
T.P. Wiseman, Catullus and His World: A Reappraisal (Cambridge University Press, 2008)
Broadcasts

Featured in...
Browse the Ancient Rome era within the In Our Time archive.

Popular culture, poetry, music and visual arts and the roles they play in our society.