Main content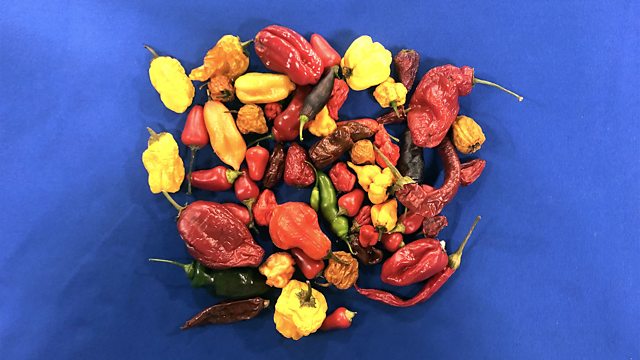 Langholm
Kathy Clugston and the team are in Langholm, Scotland.
Kathy Clugston and the team are in Langholm, Scotland. Christine Walkden, James Wong and Matthew Wilson answer the horticultural questions from the audience.
The panellists field questions on Kiwi vines, Bottlebrushes and Box trees. They also recommend grass alternatives for a lawn, advise on covering a hole in a Conifer and discuss how to graft multiple chillis onto a single root.
Away from the questions, Matthew Wilson meets Mark Hodgson of the Langholm Chilli Club to find out how this town on the Scottish borders is producing over 200 varieties of chilli.
Producer: Dan Cocker
Assistant Producer: Rosie Merotra
A Somethin' Else production for BBC Radio 4
Plant List
Questions and time codes are below. Where applicable plant names are provided.
Q – We live in a very wet area; how do you nurture roses to get the best results?
(2 minutes 16 seconds)
Q – Despite growing into healthy plants, my cabbages have refused to heart – can the panel help?
(4 minutes 25 seconds)
Q – We have three, very happy, Box trees (Buxus) which have been in the same 17inch (43cm) containers for the past 14 years. Is it time to repot, and if so, what mix should we use?
(6 minutes 12 seconds)
Q – Can the panel suggest a grass alternative for a 3m x 4m (9ft x 13ft) lawn; it needs withstand lots of rain and the rough and tumble of cocker spaniels.
(10 minutes 33 seconds)
Christine – Mentha requienii
James – Chamomile
Thyme
Sedum
'Mind-your-own-business' (Soleirolia soleirolii)
Pratia
Feature
(14 minutes 57 seconds)
Christine – Squirting cucumbers (Ecballium elaterium)
Q – I'd like to graft a few chili plants onto one root; would it be better to use a vigorous chili stalk root or something like a tomato stem?
(23 minutes 15 seconds)
Q – I have had a kiwi vine in my orangery for 17 years, but have never seen flowers; could the panel suggest how I could get it to produce flowers and indeed some kiwis?
(25 minutes 33 seconds)
Q – We have a large Conifer (12-15ft / 3.6-4m high) with a lot of dead branches to one side where a neighbouring Conifer was cut down – can the panel recommend some plants to cover the bald patch?
(29 minutes 30 seconds)
Christine – Sweet peas (Lathyrus odoratus)
Chilean glory vine (Eccremocarpus scaber)
Cup and saucer vine (Cobaea scandens)
James – Tropaeolum tricolour
Q – How and when do I prune my Bottlebrush (Callistemon rigidus)?
(33 minutes 26 seconds)
Q – What plants, suitable in this area, do the panel think would be most photogenic?
(37 minutes 11 seconds)
James – Swiss cheese plant (Monstera deliciosa)
New Zealand flax (Phormium tenax)
Chinese windmill palm (Trachycarpus fortune)
Christine – Strawberry tree (Arbutus unedo)
Matthew - Mecanopsis