Main content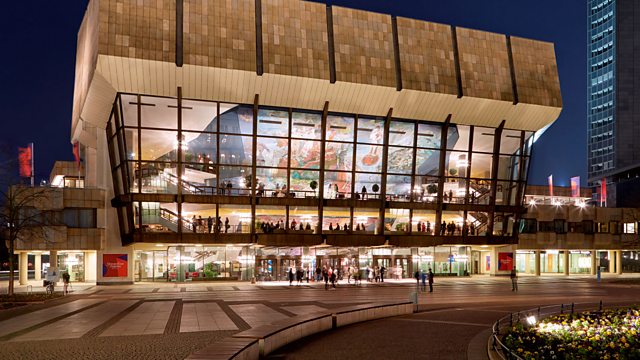 Andris Nelsons conducts the Leipzig Gewandhaus Orchestra
The world premiere of veteran French composer Betsy Jolas's Bachville, plus the teenage Clara Schumann's Piano Concerto in A minor and Robert Schumann's Symphony No 1, 'Spring'.
Georgia Mann presents the second of five concerts this week showcasing highlights from the season around Europe. Andris Nelsons' international career has two fixed points: one in Boston, the other in Leipzig where since 2018 he's been making waves as Kapellmeister at the Gewandhaus Orchestra, one of the world's most distinguished and venerable musical institutions.
In his season opener recorded in September, Nelsons chose repertoire with strong links to Leipzig, beginning with a specially commissioned world premiere by veteran French composer Betsy Jolas. Letters from Bachville is Jolas's playful title for a 14-minute work paying homage both to Bach and the city he worked in for so long. 19th-century Leipzig is the city where Robert Schumann moved to live with his piano teacher Friedrich Wieck who got an unwelcome son-in-law, as well as a pupil. Famous throughout Europe, teenage prodigy Clara Wieck wrote her piano concerto as a vehicle for her unrelenting concert schedule. Robert's 'Spring' symphony brings the concert to a triumphant and joyful close.
Betsy Jolas: Letters from Bachville
Clara Schumann: Piano Concerto in A minor, op. 7
8.15 Interval music (from CD)
J. S. Bach: Cantata "Allein zu dir, Herr Jesu Christ", BWV 33
Thomanerchor Leipzig
Sächsisches Barockorchester
Julia Sophie Wagner, Sopran
Stefan Kahle, Altus
Wolframm Lattke, Tenor
Tobias Berndt, Bass
Thomaskantor Gotthold Schwarz
8.35pm
Robert Schumann: Symphony No. 1 in B flat, op. 38 ('Spring')
Lauma Skride (piano)
Leipzig Gewandhaus Orchestra
Andris Nelsons (conductor)
Followed by:
Nathan James Dearden and the Swansea Philharmonic Choir
Making Music's Adopt a Composer scheme, in association with Sound and Music, paired composer and choir to create a piece of music. Follow Nathan James Dearden and the Swansea Philharmonic Choir behind the scenes in this short feature about their journey together, and hear the piece Nathan wrote for the choir, '3 Postcards'.
Featured in...
We broadcast more live and specially-recorded concerts and opera than any other station.