Main content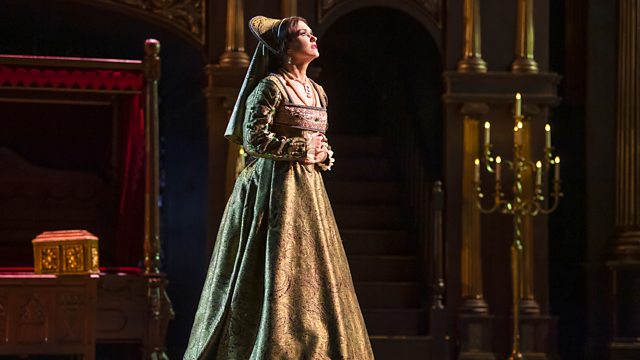 Donizetti's Anna Bolena from Liège
Opera Matinee. Georgia Mann presents a recording of last season's production of Donizetti's Anna Bolena by the Opéra Royal de Wallonie, Liège.
Opera Matinee. Georgia Mann presents a recording of last season's production of Donizetti's Anna Bolena by the Opéra Royal de Wallonie, Liège. The composer was fascinated by the Tudor period in British history and set four of his operas during that time. Olga Peretyatko sings the title role in this performance, which tells of the ill-fated, short life of Henry VIII's second wife.
Donizetti's Anna Bolena, from Liège
Anna Bolena (Anne Boleyn) - Olga Peretyatko, soprano
Giovanna Seymour (Jane Seymour), Anna's lady-in- waiting - Sofia Soloviy, mezzo-soprano
Lord Percy - Celso Albelo, tenor
Enrico (Henry VIII) - Marko Mimica, bass
Smeton (Mark Smeaton), musician - Francesca Ascioti, contralto
Lord Rochefort/Rochford (George Boleyn), Anna's brother - Luciano Montanaro, bass
Sir Hervey, court official - Maxime Melnik, tenor
Chorus of the Opéra Royal de Wallonie
Pierre Iodice, chorus director
Orchestra of the Opéra Royal de Wallonie
Giampaolo Bisanti, conductor
Image: Olga Peretyatko copyright Opéra Royal de Wallonie-Liège
SYNOPSIS
England, 1536. 
Act I
At Windsor Castle, the courtiers discuss the recent fall into disfavour of Anna Bolena (Anne Boleyn), abandoned by her royal husband Enrico VIII (Henry VIII). Giovanna Seymour (Jane Seymour), both the confidante of the queen and mistress of the king, seems panicked by the embarrassing situation in which she finds herself. Anna enters and requests that her page Smeton (Mark Smeaton) cheer her up by playing music. However, the tender romantic ode played by Smeton awakens too much nostalgia in her heart: she interrupts him suddenly and expresses her deep sadness before exiting. Giovanna has a secret meeting with the king, her lover. Torn between passion and guilt, she desires the impossible: to gain official recognition without harming Anna. Unscrupulously, Enrico promises her the throne, because he is preparing to repudiate his wife. In the grounds of the castle, Lord Rochefort (Rochford; George Boleyn) the queen's brother, is amazed to come across Lord Riccardo Percy, a close friend that the king had exiled and who has recently been called back to the court. Percy has the firm intention to win back the heart of Anna, with whom he is still in love. Rochefort warns him against harbouring such hopes when the royal couple, prepared for hunting, arrive. Anna is shocked to see Percy again; Enrico makes her feel even more ill at ease by encouraging a hearty reunion. The king and his courtiers leave to go hunting. Smeton lingers in the queen's apartments: the young page is smitten by Anna. When he hears her approaching, he does not have the time to leave and has to hide. Anna returns accompanied by her brother and is then joined by Percy. Anna withstands the passionate advances of her former lover, but he threatens to kill himself in front of her. Smeton, mistakenly believing Percy wants to kill the queen, jumps out to defend her, revealing his presence. At this point the king returns, having apparently only pretended to go hunting. The queen is overcome by emotion and faints. Faced with the scandal of finding two men with weapons drawn in his wife's apartments, he has Anna arrested, promising that she will face the judges in court, leaving the queen stunned by such an outcome.
Act II
In the Royal Palace, the ladies of the court weep at the fate of their queen. Anna asks them to plead in her favour before going to pray alone. Giovanna joins her shortly after and manages to admit her double and terrible fault to her friend: she is the king's mistress and the cause of her fall from grace. Anna is horrified by this betrayal, but her compassion towards Giovanna, betrothed today like she herself was previously, overcomes her anger and she forgives her. Sir Hervey, the king's faithful squire, announces to the courtiers that Smeton's confession has proved to be fatal for Anna. Boldly, the queen accuses the king of having paid the witness to make a false statement and declares her love for Percy. Exhilarated on hearing this, Percy then declares that he and Anna are married. This is all it takes to fuel the anger of Enrico and his determination to punish his supposedly perfidious wife. Giovanna tries to calm Enrico's anger, but in vain. In front of the courtiers, also filled with emotion and begging for mercy, the king remains unswerving and is informed that his wife has been sentenced to death. Percy and Rochefort meet in the prison in the Tower of London. It is their last moment together before they die. The women of the court, still loyal, visit their queen in prison in the Tower of London. Anna appears disorientated and seems to be remembering the day of her wedding to the king, then her reunion with Percy. The conversations and noise around her mingle with her hallucinations, occasionally bringing her back to reality, long enough to bid her brother and Percy farewell. Outside, the festivities of Enrico's marriage to Giovanna can already be heard. Setting her passions aside, Anna makes her way to the gallows, the words of forgiveness on her lips.