Main content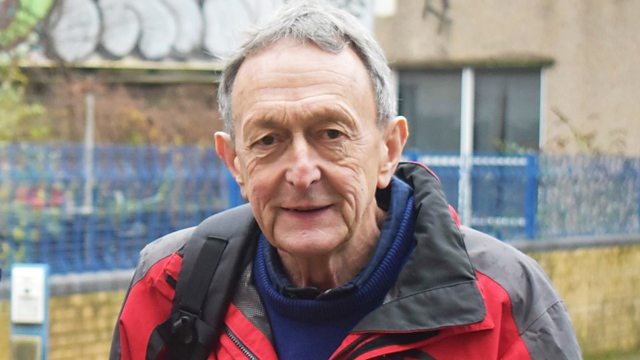 My Name Is Peter
Deputy flood warden Peter Trimingham worked tirelessly to try to limit the devastation caused by the Fishlake floods and wants others in the UK to be better protected in the future
My Name Is Peter: I helped battle to stop the devastation caused by the Fishlake floods.
Deputy flood warden Peter Trimingham worked tirelessly to limit the impact of the Fishlake floods. He was born in the village and wants others to be spared from the horror of seeing so many suffer such loss in such a short space of time:
"That really sticks in your throat you know that regardless of your efforts you can do nothing to help people, it's a horrible feeling
You just feel so small and insignificant and useless: this is something much more powerful than you and it can't be imagined unless you've been in it."
In this programme Peter questions those responsible for flood defences, including the Environmental Agency and speaks to academics and campaigning groups about what can be done to better protect people in the future.
He is confident that measures will be put in place to make future flooding unlikely in Fishlake, but he wants a more coordinated approach: "I don't want to see us defended so well that it guarantees someone else gets it. That's not what we are about as a country."
When the water levels began to rise on Friday, Peter went out in his Jeep to fill sandbags and deliver them to neighbours: "We were driving along and all of a sudden we were lifted up by the flood water in a sideways flow which shoved us into a drain. We had to climb out otherwise we could have drowned," he said.
In the recordings he meets local families suffering as insurance companies delay and even initially refused payments. He lives in the one of the "lowest house in the village," and it was a race against time to get belongings off the floor as the water started seeping in from every hole and crevice:
"You're in your house that you've lived in and you're frantically trying to get things away and at this stage you have no idea how high the water will rise."
Within hours of the floods people began donating food, clothing and essential supplies to St Cuthbert's church. Its pews are now stuffed with bedding and supplies are covering all available surfaces. Peter chats with organisers who feel that long term solutions can in part come from locals doing more to plant trees and encourage wildlife in the future.
When Peter was a boy rain from the hills of Sheffield would take a full day to reach Fishlake: "now with the spread of warehouses, concrete and block paving that run-off time is twelve hours: ""When we got to Stainforth Bridge we could see it was overbanking quite heavily, filling up low level areas. Some of the houses were wrecked as the floods took hold. Its photographs, memories, clothing and belongings – they're all gone. It's heart-breaking."
Produced by Sue Mitchell
Last on
Broadcasts