Main content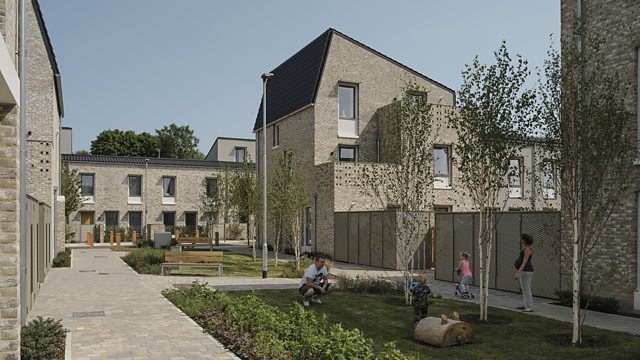 A house and a home
Andrew Marr with the architect David Mikhail, political scientist Ben Ansell, and writers Jude Yawson and Christina Hardyment.
Andrew Marr discusses the state of housing in Britain and what makes a house a home.
Common wisdom states that owning a house makes you a Tory, but is this true? Political scientist Ben Ansell says that Thatcher was right to assume that Right to Buy would create more Conservative voters. But today we see the opposite: the people whose houses have risen most in value are also the most likely to support Labour. Ansell looks back at the 1909 British Liberal Party budget, when politicians tried to take on the landlords who get rich at our expense.
The architect David Mikhail helped design a groundbreaking council house estate which won last year's Stirling Prize, awarded to the best new building in the country. As the shortfall in social housing reaches crisis levels, his Goldsmith Street in Norwich was celebrated for creating sustainable and ambitious homes for people in need.
The writer Jude Yawson looks back at the emergence of Grime, a music culture which emerged from the tower blocks of East London. The artists – mostly young black men – used the city's juxtaposition of their decaying tower blocks and the new gleaming skyscrapers, as the backdrop to their new urban music.
Fictional homes are at the centre of Christina Hardyment's study, Novel Houses. Dickens and Austen both criticised grand country piles, seeing them as proxies for "the dead hand of the aristocracy". Hardyment explores the personal and social importance of unforgettable dwellings – from Bleak House to Howards End – and shows how the homes take on a life of their own, becoming as characterful as the people who live in them.
Producers: Katy Hickman and Hannah Sander
Ben Ansell
Ben Ansell is Professor of Comparative Democratic Institutions at Nuffield College, University of Oxford and conducts research in a wide area of comparative politics and political economy.
David Mikhail
David Mikhail is the co-Founding Director of the architectural firm Mikhail Riches which won the 2019 Stirling Prize for Goldsmith Street in Norwich.
Jude Yawson
Jude Yawson is a writer of essays, articles and poetry.
He co-wrote and edited Rise Up: The #Merky Story So Far with Stormzy and the Merky Team and it's published by Merky Books.
Christina Hardyment
Christina Hardyment is a writer and journalist with a special interest in literary geography and domestic history.
Novel Houses: Twenty Famous Fictional Dwellings is published by the Bodleian Library.