Main content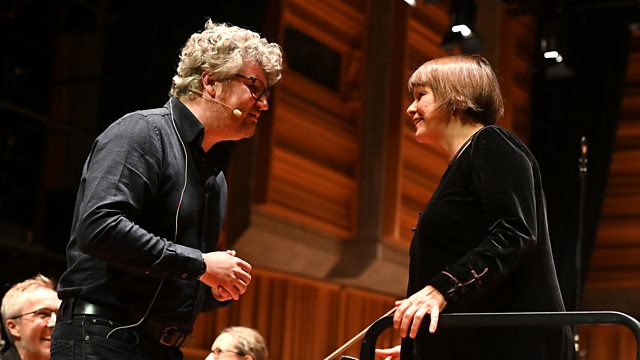 Orchestra Unwrapped
Presented by Georgia Mann. The BBC Concert Orchestra and audience are unwrapped and dissected by Tom Service in search of an authentic performance of Mozart's 'Paris' Symphony.
Presented by Georgia Mann, with this week's featured orchestra the BBC Concert Orchestra. Today, a concert recorded last September at the Queen Elizabeth Hall, London, in which Tom Service and conductor Alice Farnham recreate the spirit of the first performance of Mozart's Paris Symphony with its rowdy audience participation, before considering the line-up and the many cultural functions of a modern day orchestra. After that we'll hear a brand new recording of a late 19th-century Savoy Theatre curtain-raiser, typically performed before the main bill. Plus, as part of New Year, New Music, Sara Mohr Pietsch introduces a piece of music she loves.
Orchestra Unwrapped with Tom Service.
Mozart Symphony No.31 'Paris'
John Williams: Hedwig's Theme from Harry Potter and the Philosopher's Stone
Graham Fitkin: Metal
Prokofiev: Romeo & Juliet (Suite 2, mvt 1)
Hermann: Murder from Psycho
John Williams: Main Theme from Jaws (bb1-29 only)
Elgar: Nimrod from Enigma Variations
Tabakova: Orpheus' Comet
Laurie Johnson: Las Vegas (Animal Magic)
Stravinsky: Firebird 1919 version (horn solo to end)
BBC Concert Orchestra
Alice Farnham, conductor
3.30pm
Savoy curtain raisers:
Music François Cellier, words Harry Greenbank: Captain Billy
Captain Billy, a pirate - Ben McAteer (baritone)
Samuel Chunk, landlord of the Blue Dragon - Henry Waddington (bass-baritone)
Christopher Jolly - Ed Lyon (tenor)
Widow Jackson - Fiona Kimm (contralto)
Polly, her daughter - Eleanor Dennis (soprano)