Main content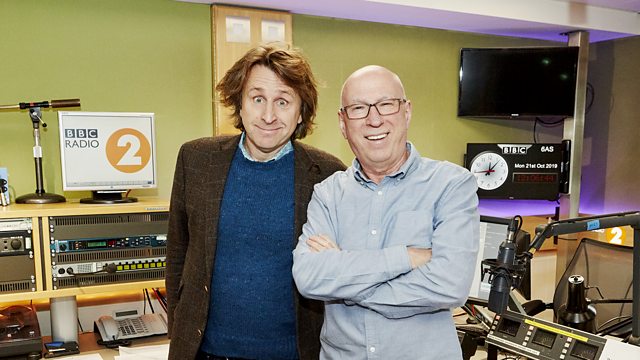 Milton Jones chooses his Tracks of My Years
Milton Jones, the comedian who's best known for his appearances on Mock The Week and Live at the Apollo is choosing his Tracks of My Years. Plus Ken has another round of PopMaster.
Milton Jones, the comedian who's best known for his starring roles on Mock The Week and Live at the Apollo picks his Tracks of My Years with songs from The Police and Lionel Richie. Milton is one of the country's biggest selling comedians and is about to head out on the road on another UK tour called Milton: Impossible. He has said that the latest our "is loosely based on a Tom Cruise film I saw once called something like Undo-able Task." Milton's last sell-out tour, Milton Jones Is Out There, saw over one hundred thousand people pack the rafters, with an entire leg of extra shows added to cater to demand, underlining his position as one of the UK's most popular and biggest selling comedians. Milton has co-written and performed in eleven of his own radio series for BBC Radio 4 and in 2012 Another Case of Milton Jones won the Silver Sony Award for Best Comedy. He won the Perrier Best Newcomer Award, is the winner of two Sony Awards, a Writers Guild Award nominee and his radio show Very World of Milton Jones was nominated for a British Comedy Award. Milton has also released three hugely successful live DVDs - Milton Jones – The Universe Tour. Part One – Earth Milton Jones Live, The Lion Whisperer and On the Road.
Ken's got another round of the legendary PopMaster music quiz and your dedications with today's love song. There's also the record and album of the week.
If you want to contact the show, just email - ken.bruce@bbc.co.uk
Last on
New Year's Day 2020
09:30
Music Played
Nina Simone

Ain't Got No, I Got Life

Dermot Kennedy

Power Over Me

Outnumbered.
UMGRI Interscope.

Boy Meets Girl

Waiting For A Star To Fall

The All Time Greatest Movie Songs.
Columbia/Sony Tv.

Clean Bandit

Symphony (feat. Zara Larsson)

Madonna

True Blue

32 Ones On One Radio 1's 25th Birthday (Various Artists).
Connoisseur Collection.

James Blunt

The Truth

Once Upon A Mind.
Atlantic.

Four Tops

I Can't Help Myself

The Four Tops - The Singles Collectio.
Polygram Tv.

Electric Light Orchestra

Hold On Tight

Fantastic 80's Disc 1 (Various Artists).
Columbia.

The Cardigans

My Favourite Game

Q The Album (Various Artists).
Virgin.

Bette Midler

The Wind Beneath My Wings

Atlantic Records 50 Years: The Gold Anniversary Collection (Various Artists).
Atlantic.
2.

Record Of The Week

Travis

Kissing In The Wind

(CD Single).
Red Telephone Box.

Johnny Hates Jazz

Shattered Dreams

Now 1987 - The Millennium Series.
EMI.

Lenny Kravitz

Here To Love

Raise Vibration.
BMG Rights Management (UK).

Sonique

Alive

(CD Single).
Serious Records.

Sniff 'n' the Tears

Driver's Seat

Various Artists - Top Gear 2.
Columbia.

Kash Doll

,

Kim Petras

,

ALMA

&

Stefflon Don

How It's Done

Charlie's Angels O.S.T. (Various Artists).
Silver Cloud.

Elkie Brooks

Sunshine After The Rain

The Very Best Of.
Virgin EMI Records.
004.

Album Of The Week

Rod Stewart

Sailing (feat. Royal Philharmonic Orchestra)

You're In My Heart: Rod Stewart (With The Royal Philharmonic Orchestra).
Warner Records.
4.

Bonnie Tyler

Total Eclipse Of The Heart

Faster Than The Speed Of Night.
CBS.

Tracks Of My Years

The Police

Every Little Thing She Does Is Magic

Ones On 1 (Radio 1 21st Birthday Albu.
BBC.

Lionel Richie

Hello

Lionel Richie: Truly - The Love Song.
Motown.

Lewis Capaldi

Before You Go

The O'Jays

Love Train

Shades Of Soul (Various Artists).
Global Television.
Broadcast
New Year's Day 2020

09:30