Main content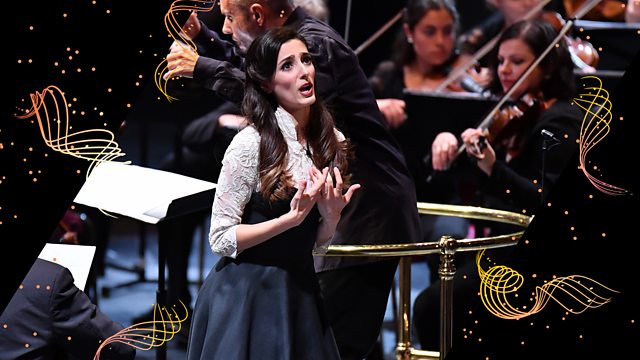 Prom 65: Mozart, Beethoven and Richard Strauss
Another chance to hear Constantinos Carydis conduct the Deutsche Kammerphilharmonie Bremen in Beethoven's Symphony No 7 plus, with soprano Danae Kontora, Mozart and Strauss."
From the BBC Proms: another chance to hear Constantinos Carydis conducts the Deutsche Kammerphilharmonie Bremen and soprano Danae Kontora in Mozart and Strauss, plus Beethoven Symphony No. 7.
Presented at the Royal Albert Hall by Ian Skelly.
Mozart: The Abduction from the Seraglio – overture; Aria: 'Popoli di Tessaglia! – lo non chiedo, eterni dei'; Cassation No. 1 in G major – Andante; Aria: 'No, no, che non sei capace'; Symphony No. 35 in D major, 'Haffner'
c.8.25
Interval: Georgia Mann introduces an exploration of the connections between the music of Strauss and Mozart, with musicologists Barbara Eichner and William Mival.
c.8.45
Richard Strauss: Capriccio – sextet; Ariadne auf Naxos – 'Grossmächtige Prinzessin!'
Beethoven: Symphony No 7 in A major
Danae Kontora (soprano)
Deutsche Kammerphilharmonie Bremen
Constantinos Carydis (conductor)
Greek coloratura soprano Danae Kontora makes her Proms debut with a sequence of Mozart and Strauss arias, while Mozart's 'Haffner' Symphony is filled with operatic ornamentation and dramatic effects.
The vitality of Beethoven's Symphony No. 7 led to its being famously described by Wagner as 'the apotheosis of the dance'.