Main content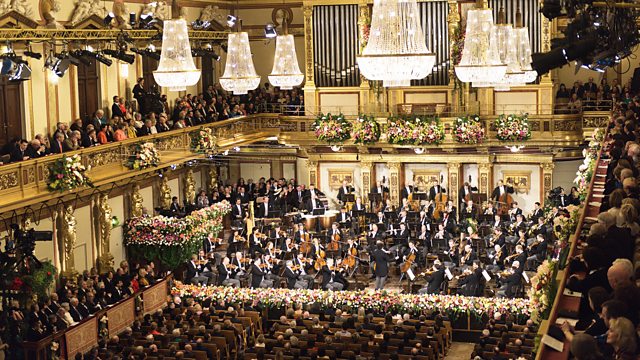 New Year's Day Concert from Vienna
The Vienna Philharmonic Orchestra, conducted by Andris Nelsons, perform their traditional, celebratory New Year's Day Concert, live from the Musikverein in Vienna.
Petroc Trelawny presents the annual New Year's Day Concert live from the Musikverein in Vienna. The Vienna Philharmonic Orchestra is conducted this year by Andris Nelsons in a time-honoured, celebratory programme of waltzes, polkas and marches in the Viennese tradition.
Part 1
Carl Michael Ziehrer: The Vagabond's Overture
Josef Strauss: Love's Greetings Waltz op.56
Josef Strauss: Liechtenstein-March op.36
Johann Strauss II: Flower Festival Polka op.111
Johann Strauss II: Where the Lemon Trees Blossom Waltz op.364
Eduard Strauss Without Warning Polka op.132
INTERVAL: Gavin Plumley explores what the peace Treaty of Trianon, signed 4th June 1920 and largely marking the end of World War 1, meant for Austria and Austrians.
Part 2
Franz von Suppe: Light Cavalry Overture
Josef Strauss: Cupido (French Polka) op.81
Johann Strauss II: Be Embraced, You Millions Waltz! op.443
Eduard Strauss arr. Wolfgang Dorner: Ice Flower Polka op.55
Josef Hellmesberger II: Gavotte
Hans Christian Lumbye arr. Wolfgang Dorner: Postillon Galop. op.16/2
Ludwig van Beethoven: Twelve Contredanses WoO.14 nos.1,2,3,7,10,8
Johann Strauss II: Enjoy Life, Waltz op.340
Johann Strauss II: Tritsch-Tratsch Polka op.214
Josef Strauss Dynamiden, Waltz, op.173
Photo of the VPO in the Musikverein (c) Terry Linke