Main content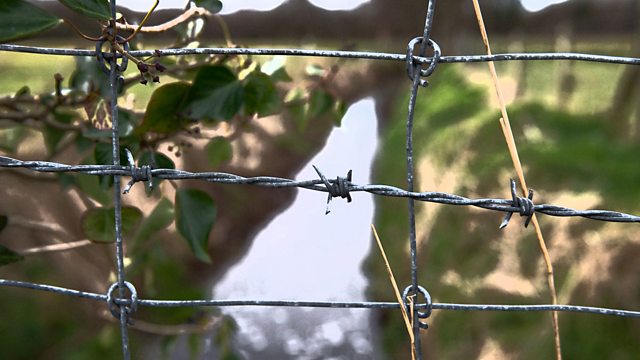 Puckoon
Ed Byrne, Pauline McLynn and Barry Cryer star in Spike Milligan's classic madcap satire. An Irish town falls victim to bureaucratic stupidity when divided by a new border.
A madcap satire on the division of Ireland, by the godfather of British comedy, Spike Milligan.
Starring Ed Byrne, Pauline McLynn, Kate Harbour, Jane Milligan and featuring Barry Cryer as "The Author". Adapted from Spike Milligan's classic comic novel by Ian Billings.
Published in 1963, Puckoon became a publishing phenomenon, has never been out of print and has sold more than 6million copies. It's a satire on the futility of national borders and inadequacy of bureaucrats, filled with wonderful one-liners and madcap scenes which fall into one another, and remind us of the author's great days writing the Goons.
In 1924, the Boundary Commission is tasked with creating the new official division between Northern Ireland and the Irish Republic. Through incompetence, dereliction of duty and sheer perversity, the border ends up running through the middle of the small town of Puckoon.
Houses are divided from outhouses, husbands separated from wives, bars are cut off from their patrons, churches sundered from graveyards. And in the middle of it all is poor Dan Milligan, our feckless protagonist (played by Ed Byrne), who is taunted and manipulated by everyone to try and make some sense of this mess.
The division of the church from its cemetery makes it difficult for the Irish residents to bury their dead. "You intend to bury an Irish citizen in what is now British territory? He will require the following: an Irish passport stamped with a visa, to be renewed annually for the rest of his stay." The corpse of Dan Doonan is taken to a photographer to get his picture taken, as part of the formalities of getting his passport renewed.
Spike Milligan was one of the greatest and most influential comic writers and performers of the 20th century, with deep connections to the BBC. Born in India in 1918, he served in the Royal Artillery during the Second World War in North Africa and Italy. At the end of the war, he forged a career as a jazz musician, sketch-show writer and performer, before joining forces with Peter Sellers and Harry Secombe to form the legendary Goon Show. Until his death in 2002, he had success on stage and screen and as the author of over eighty books of fiction, memoir, poetry, plays, cartoons and children's stories.
Cast:
Ed Byrne
Barry Cryer
Pauline McLynn
Kate Harbour
Jane Milligan
Wilf Scolding
David Shaw-Parker
Colm Gleeson
Tom Alexander
Adapted by Ian Billings
Director: Dirk Maggs
Producer: David Morley
A Perfectly Normal production for BBC Radio 4
Last on