Main content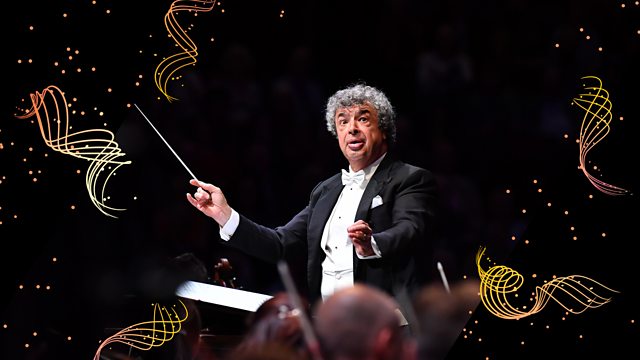 Prom 69: Smetana, Shostakovich and Tchaikovsky
From the 2019 BBC Proms, Semyon Bychkov conducts the Czech Philharmonic in excerpts from operas by Tchaikovsky and Smetana, and in Shostakovich's wartime Symphony No 8 in C minor.
From the BBC Proms, another chance to hear Semyon Bychkov conducting the Czech Philharmonic in excerpts from Tchaikovsky and Smetana operas and Shostakovich's wartime 8th Symphony.
Presented at the Royal Albert Hall by Martin Handley.
Smetana: The Bartered Bride – overture; Three Dances
Tchaikovsky: Eugene Onegin – Letter Scene
8.10pm
Interval Proms Plus
A verbal correspondence about the function of letters in literature and life. PS - the speakers are best-selling crime novelist Ruth Ware and Shaun Usher, editor of the popular website Letters Of Note. Hosted by New Generation Thinker Sophie Coulombeau. Produced by Zahid Warley.
Shostakovich: Symphony No 8 in C minor
Elena Stikhina (soprano)
Czech Philharmonic
Semyon Bychkov (conductor)
The dancing rhythms and swirling colours of Smetana's opera The Bartered Bride launch a concert of big musical gestures and even bigger emotions.
First love blazes hot in the Letter Scene from Tchaikovsky's opera Eugene Onegin, as Tatyana (sung here by soprano Elena Stikhina) pours out her heart in music as romantic as anything the composer ever wrote.
War, not love, drives the pulsing heartbeat of Shostakovich's Eighth Symphony – the most personal and direct of the composer's many attempts 'to express the terrible tragedy of war'.