Main content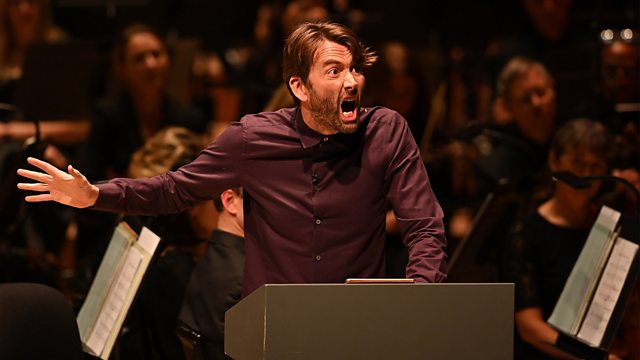 Playing in the Dark (Part 2)
A special concert of readings and music from Neil Gaiman, Amanda Palmer, David Tennant and the BBC Symphony Orchestra conducted by Mihhail Gerts. (Part 2 of 2)
Neil Gaiman is one of the great storytellers of our time, his work loved by fans of all ages in books, films, on TV and in the theatre.
In this second part of a very special concert (the first part was broadcast on Christmas Day), he joins the BBC Symphony Orchestra, conducted by Mihhail Gerts, for a walk on the dark side, reading from his best-selling books, weaving together his dystopian visions with music to thrill and excite the senses.
He is joined on stage by Amanda Palmer who sings A Nightingale Sang In Berkeley Square and David Tennant, reading from Gaiman and Sir Terry Pratchett's work "Good Omens".
This is an edited version of the full concert, broadcast on BBC Radio 3 on 23 December 2019.
All written works: Neil Gaiman (with Sir Terry Pratchett for Good Omens)
BBC Symphony Orchestra conducted by Mihhail Gerts
Producer for BBC Radio 4: Steve Doherty
Producer for BBC Symphony Orchestra: Ann McKay
General manager, BBC Symphony Orchestra: Paul Hughes
A Giddy Goat and BBC Symphony Orchestra production for BBC Radio 3 and BBC Radio 4
Music played in part two of the concert:
WAGNER: The Ride of the Valkyries
HERRMAN: Prelude from Fahrenheit 451
BRITTEN: Sinfonia da Requiem (2nd movement)
SHERWIN/MASCHWITZ: A Nightingale Sang In Berkeley Square