Main content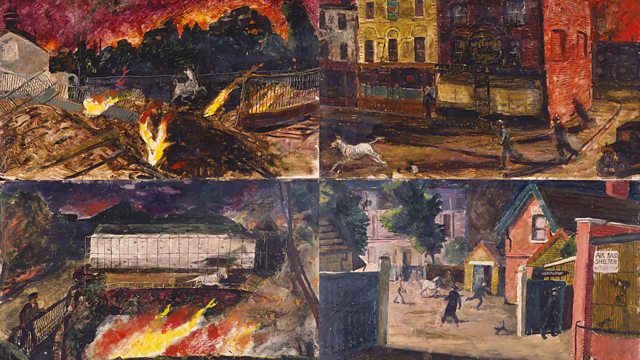 The Escape of the Zebra from the Zoo
War artist Carel Weight painted the zebra that galloped out of London Zoo into the maddened city during an air raid. The animal escaped unscathed, but thousands of animals didn't.
War is often described as a dehumanising process. But what happened to Britain's non-human inhabitants in this terrible conflict?
In a painting in Manchester City Art Gallery, a zebra rears up, black and white striking against the terrible night scene. The sky reddens in the distance from a vast explosion in 1940. War artist, Carel Weight painted the zebra that galloped out of the zoo in to the maddened city. The animal escaped unscathed, but thousands of animals didn't.
Four panels show the journey of the terrified zebra and close on his hooves are sketchy figures, trying to capture the fleeing animal. One of them may have been a keeper at London Zoo at the time, called Shelley. In this feature, it's an imaginary Shelley who tells us what happened, recalling the night the Zebra House was bombed, along with the goings on at city zoos during World War Two. Between archive footage, the rumble and shock of explosions, the voices of non-human creatures and of human historians, we hear how animals in zoos fared, along with the terrible fate of 400,000 cats and dogs, killed in September 1939, on the orders of their anxious owners who feared the onslaught of war.
It was at London Zoo that Julian Huxley, then Secretary of the Zoological Society, would try and spare the animals the sounds of bombing and sirens drowning out the destruction with gramophones playing the music of Sibelius.
Animals were central to the way Churchill imagined the conflict. Visiting London Zoo in 1939, as war loomed ever closer, Churchill learned that the zookeepers were primed to shoot top predators: the lions and tigers if they escaped. As recorded by Huxley in his memoirs, Churchill replied 'What a pity!' before staring into the middle distance and conjuring for him an extraordinary and disturbing apocalyptic fantasy. Churchill's vision was a London of fire, burning wreckage, the noises of war, and big cats roaming the bombed out streets in search of dead bodies.
Peter Markinker is the voice of Shelley.
Contributors include the historians Marianne Sommer, Richard Sam Deese, Hilda Keene and Andy Flack; Archivist Sarah Broadhurst and Curator Hannah Williamson.
Devised by David Barnes and produced by Kate Bland
A Cast Iron Radio Production for BBC Radio 3.
Last on
Music Played
Judith Weir

On Buying a Horse

Singer: Andrew Kennedy. Performer: Iain Burnside.

On Buying A Horse.
Signum Classics.
001.
Broadcast